HAWKEI CONTRACT GIVES REGIONAL INDUSTRY A BOOST
06-10-2015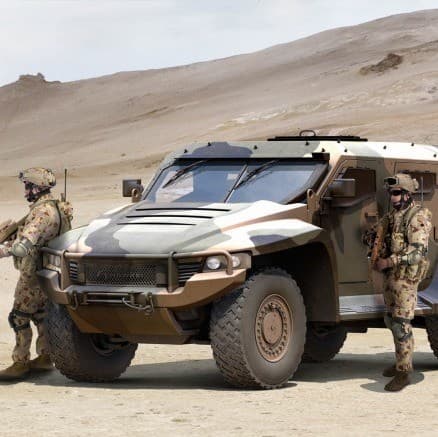 Industry groups have welcomed the federal government's announcement that Thales Australia has won a contract to build Hawkei armoured vehicles for Australian Defence.
The announcement by Prime Minister Malcolm Turnbull and Defence Minister Senator Marise Payne will ensure 1000 new light utility vehicles will be built locally.
Thales has a major manufacturing facility at Bendigo, Victoria
The Australian Advanced Manufacturing Council (AAMC) said the decision recognises the quality and value of Australian capabilities in advanced manufacturing.
"Highly sophisticated and high-value manufacturing is precisely the area where Australia can do well - and frankly, already does do well," said AAMC Chairman Mr John Pollaers.
Mr Pollaers said there are a growing number of Australian-based manufacturers who were innovative and globally-oriented, and who were not only securing their own future but also beginning to underpin a diverse and more sustainable Australian economy.
"We are very pleased to see this contract fully recognising that capability," he said.
Australian Industry Group Chief Executive, Innes Willox, said the decision would provide a significant boost for the defence sector and regional industry.
"The Hawkei vehicle has won against stiff international competition, highlighting the capacity of companies, such as Thales Australia, to compete successfully in such a demanding environment," Mr Willox said.
"Thales Australia has had a long, successful involvement in armoured vehicle design and production, with its Bushmaster vehicle having protected and saved Australian Defence Force lives in wars in the Middle East.
"More than 100 Victorian-based companies are part of Thales Australia's supply chain for Bushmaster, proving the ingenuity, confidence and innovation which this company places in this advanced technology sector.
"Hawkei will contribute further to this major regional stimulus, boosting confidence in our local industry and Australian manufacturing.
"Thales Australia's ongoing investment in skills development and adaption to a new generation armoured vehicle is yet another vote of confidence in our local workforce."
The federal opposition also welcomed the announcement.
In 2013, Thales Australia's Hawkei was selected as the preferred choice of vehicle for LAND 121 Phase 4 by the then Labor Government.
This followed a rigorous selection process that included prototype vehicles, user assessments, and capability and reliability testing against Defence's unique and demanding requirements.
"After two year of indecision, the Abbott/Turnbull Government has finally reached the same conclusion that Labor did in 2013 – that the Hawkei is the best vehicle for the job," the Opposition said in a joint Shadow Ministerial media release.