HARVESTING POWER FROM ROAR OF ENGINE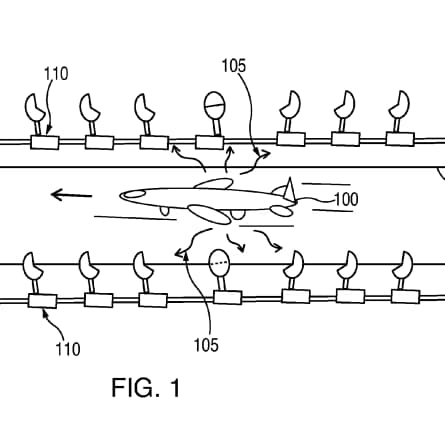 Boeing just patented a system to get electricity from the roar of a jet engine
In a recent attempt by Boeing to reduce its environmental impact, the company has filed a patent for a method of producing energy from the roar of the planes taking off.
According to the patent the idea is founded on a series of "acoustic wave collectors" that are mounted on either side of the runway, and as the planes take off, these collectors convert the sounds waves into energy.
"It is well recognised that airports are generate a great deal of noise during aircraft take-offs and landings," writes inventor and Boeing engineer Chin Toh.
"This acoustic energy is left to dissipate and represents a lost energy resource. Heretofore, there has been no way to recycle the acoustic energy generated by aircraft during take-offs and landings. Accordingly, there is a need for a method and system to harvest the free acoustic energies available at airport runways for electricity generation."
What doesn't appear to be clear though is the amount of energy that will be garnered from the system as sounds waves generate only a fraction of the power that solar does.
"It's perfectly conceivable to absorb [those vibrations] and glean useable energy," writes David Cohen-Tanugi, vice president of the MIT Energy Club.
"You're not going to power a city with it, but you can power small devices."