HARVARD PROFESSOR ADDRESSES SYDNEY BUSINESS FORUM
24-08-2015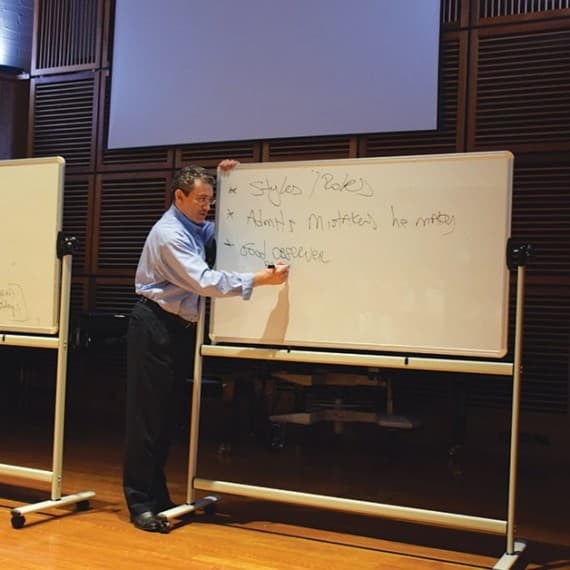 Privately-owned Australian engineering, industrial manufacturing and services company, NEPEAN, surprised guests at its recent Leadership Forum in Sydney with a presentation by Professor Boris Groysberg from the Harvard Business School.
Professor Groysberg is a highly regarded academic and much sought after international business consultant.
He has won numerous awards for his research, which focuses on the challenges of managing human capital in organisations.
Professor Groysberg has written numerous articles and case studies on how firms hire, engage, develop, retain and communicate with their talented employees.
In particular, his work explores how firms can achieve a sustainable competitive advantage by engaging employees in the implementation of business strategies.
More than 75 NEPEAN customers and guests attended the Forum at the Sydney Conservatorium of Music.
Mr Miles Fuller, CEO and Director of NEPEAN, said the company was very fortunate to have Professor Groysberg at the annual NEPEAN Business Forum for customers.
"He is in demand all around the world, and we are delighted he accepted our invitation to deliver a Harvard Business School style lecture that includes audience interaction for our customers."
The full day seminar focussed on three key business themes: Leadership and Performance, Managing Talent and Building a Great Company.
To address issues pertinent to leadership and performance, Professor Groysberg
examined the critical factors which contributed to Jack Welch's highly successful tenure as CEO at General Electric from 1984 to 2000.
NEPEAN's customers also heard first hand from Jack Welch, via archived video footage, on aspects of his various business strategies and leadership style.
Professor Groysberg then discussed how best to manage talented individuals in organisations, the importance of integrating them into the company and the portability of
talent in the market place.
The seminar concluded with an afternoon session on what drives a firm's performance.
Professor Groysberg dissected myth from reality as he highlighted the factors most important in building a successful business.
Mr Fuller said the concept of a Harvard Business School style Forum for customers, was conceived as a result of his own participation in the school's highly contested YPO Harvard President's Program held on campus every January.
He was selected to participate in the program and was convinced that many of their customers would also benefit from such an experience.