HARVARD MIMICS ANIMALS AND PLANTS TO PRODUCE WATER FROM THIN AIR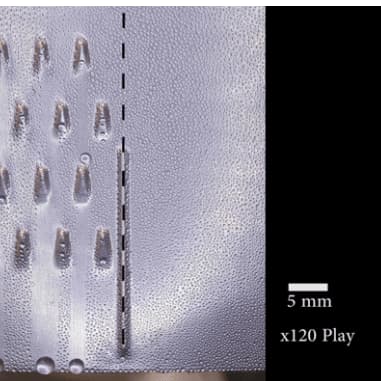 To deal with the amount of droughts that seem to something of a recurring trend, scientists and engineers alike are taking water from thin air
Now researchers at Harvard have caught on and are taking hits from nature to develop a new way of harvesting water from the atmosphere.
"Everybody is excited about bio-inspired materials research," said chemical biologist Joanna Aizenberg from Harvard's Wyss Institute for Biologically Inspired Engineering.
"However, so far, we tend to mimic one inspirational natural system at a time."
This time the team has combined elements from three different plants and animals to create a material that they claim can outdo other designs.
The researchers have said that the major challenges of collecting water from the air come from controlling the size, the speed and the direction of the water droplets and how they move on the surface.
The solution to that problem cam in the form of mimicking the bumps of the Namib Desert beetle, both the qualities and the shape.
The team was able to find that the natural water-trapping mechanism could be improved upon by mimicking the geometry and slopes of cactus spines, which help drive collected droplets down the slopes.
Then combining these two factors along with the nano-coating designed to mimic the slippery slope on pitcher plants, the material aids the droplet formation as it moves downwards.
"We experimentally found that the geometry of bumps alone could facilitate condensation," said one of the researchers, Kyoo-Chul Park.
 "By optimising that bump shape through detailed theoretical modelling and combining it with the asymmetry of cactus spines and the nearly friction-free coatings of pitcher plants, we were able to design a material that can collect and transport a greater volume of water in a short time compared to other surfaces."
The tandem effect of the system with the technology developed by the researchers called Slippery Liquid-Infused Porous Surfaces – helps the material collect water.
"Bumps that are rationally designed to integrate these mechanisms are able to grow and transport large droplets even against gravity and overcome the effect of an unfavourable temperature gradient," the authors write in their paper,published in Nature.
This new method could possibly be the answer to water shortages all around the world and could be used to enhance condensation in industrial machinery.
"Thermal power plants, for example, rely on condensers to quickly convert steam to liquid water," said one of the team, Philseok Kim.
"This design could help speed up that process and even allow for operation at a higher temperature, significantly improving the overall energy efficiency."