Hare & Forbes takes family-owned company to the next level
20-03-2014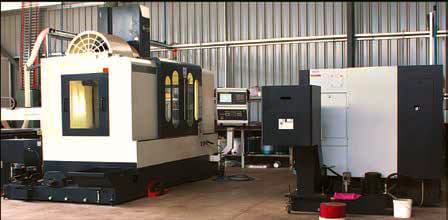 Cammthane is an Australian, family owned company manufacturing and supplying polyuretyhane and engineering plastic products.
Earlier this year the company celebrated its 25th Anniversary – and had every reason to celebrate.
From its humble beginnings at Port Kembla on the NSW southcoast, the company now supplies more than 2000 products to a broad range of industries including mining, steel, engineering, timber, automotive, agricultural, printing, transport and medical.
Adrian and Cheryl van de Ven formed the company in 1988 to service the local steel industry as well as supplying various rubber companies with polyurethane rolls.
Now based at much larger premises at Albion Park near Wollongong, with 15 fulltime employees, Cammthane has grown from strength to strength.
The company's engineering plastics cover the full range of materials including nylon, acetal, polyethylene, teflon, polycarbonate, polypropylene, PVC and acrylic.
Cammthane supplies products such as sheet, rod, tube, rollers, moulded parts or machined parts that can be produced in its fully equipped machine shop.
Previously, most of the machining work was carried out manually with basic lathes and mills, including a manual CNC router. Larger jobs had to be out-sourced.
But earlier this year the company decided to bring all of its work in-house.
"We wanted to provide a more efficient and cost effective service for our clients," says Cammthane production manager Matthew van de Ven.
"Our range of Engineering Plastics is ever expanding and we ensure we keep up-to-date with the latest materials."
So the company decided to source new machinery to streamline its CNC requirements.
"We contacted Hare & Forbes (Machineryhouse) for advice, he says.
"They are an Australian supplier with an excellent reputation in the market place.
"We first started talking with their representatives at the (Austech) trade show in Melbourne."
The Hare & Forbes team recommended the Hartford Omnis 1270 VMC and Doosan Lynx 300M with Fedek DGH65L Bar Feed for their CNC machining needs.
A new machine shop was then set up within the Cammthane complex to house the new machines.
And because Cammthane's staff had no previous experience with the new machinery, Hare & Forbes provided a week's training to bring them up to speed.
"They were awesome, says Matt. "We didn't know a single thing about operating this type of equipment – it's a completely different program. But we have now learned everything we need to know about it.
"The on-going service and support was outstanding."
According to Matthew it is one of the best moves his company has made.
"It has not only improved our productivity, it has also improved quality and accuracy," he says.
The new machines are mainly used to service the booming mining industry.
"We produce everything from small plastic joysticks on machines to wear and track pads, bushes, sheaves, moulds and chain guards.
"The parts that come out are absolutely amazing," says Matt.
Matt has no hesitation in recommending Hare & Forbes to others.
"They are top notch."
Hare & Forbes Machineryhouse have been supplying new and used workshop and engineering equipment for more than 80 years.
They offer one of Australia's most extensive ranges of workshop machinery and machine tool accessories.
Its head office and warehouse is located in Sydney, with supply branches and agencies in all major capitals.
Cammthane
Ph: 02 4257 3201