Hare & Forbes Machineryhouse Brisbane branch celebrates 25 years with a new & larger showroom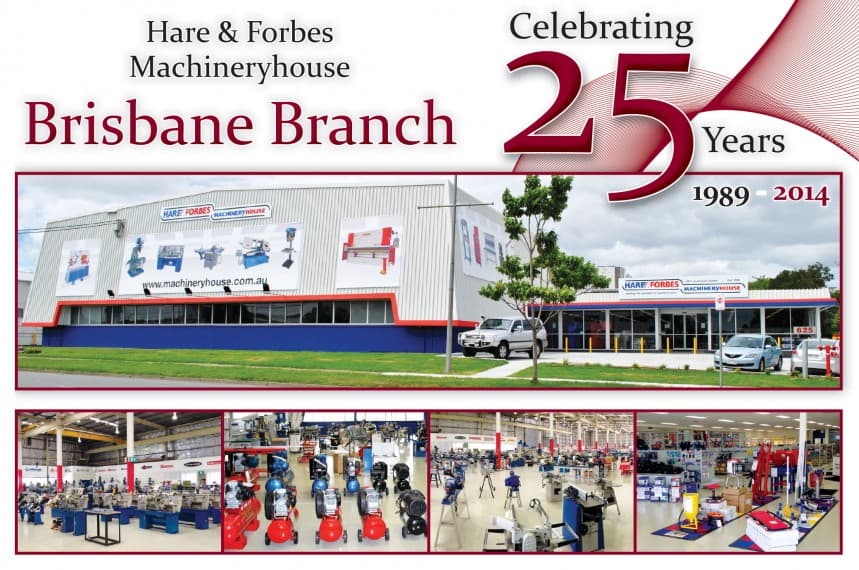 Leading machinery supplier Hare & Forbes Machineryhouse has opened a new 3,700sqm showroom in Brisbane to coincide with its 25th Anniversary in that city.
From small beginnings in 1989, Hare & Forbes Machineryhouse, the Brisbane branch has grown significantly.
The new showroom features the complete Hare & Forbes range, including new release products, all under one roof.
Manager Warren Cooper, an employee of the company for 27 years, relocated from Sydney and has been with the Brisbane branch since it first opened its doors.
At that time, one other staff member was employed, Mark Walters, who is current sales manager.
The Brisbane branch began trading in a 600sqm showroom in the suburb of Woolloongabba.
By 1994, with a total of four staff members, they out grew their premises and relocated to Macgregor, to a larger 900sqm showroom. They stayed at Macgregor for a further 10 years.
By the end of 2003 extensions were made into the adjoining units, creating a larger showroom of some 1,400sqm and bringing the number of staff to a total of nine members.
In 2004, Coopers Plains became their new home. A grand showroom/warehouse of 4,200sqm, located at 626 Boundary Road. 
Due to the growth of their extensive product range of machinery & tools, and with staff numbers exceeding 30, they out grew their premises.
Once again the search began for a larger building. As it turned out, the solution was right in front of them. Across the road was a 3700sqm warehouse and the decision was made to purchase the building and transform it into a new showroom.
The newly designed showroom comprises a 600sqm area where customers can shop for small items in air conditioned comfort. The remainder of the building is used to house one of the largest displays of engineering and woodworking equipment in Australia.
The building opposite (Number 626) has been retained as a warehouse, accommodating  some 5000 products.
Customers are invited to visit the new showroom and discuss their machinery requirements with Hare & Forbes' experienced sales team.