HARE & FORBES MACHINERY HELPS MANUFACTURER REACH GREAT HEIGHTS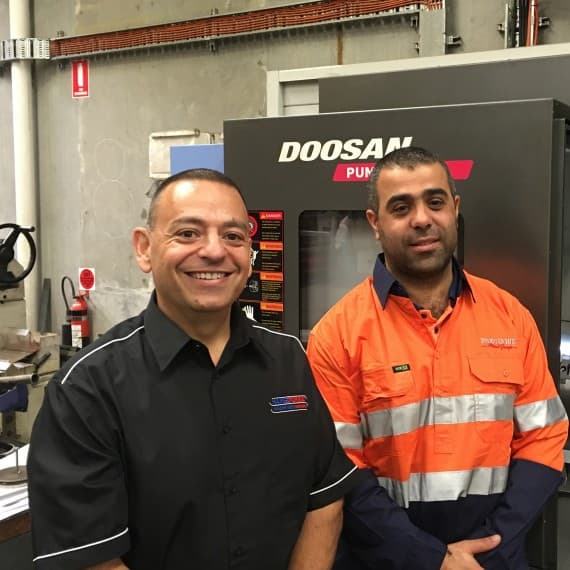 Precision Metal Group is the classic Australian manufacturing success story: since its establishment nearly 16 years ago, the company has defied a downward trend and grown to become an industry leader.
Precision Metal Group offers a broad range of services including metal fabrication, profile cutting, workshop machining, machinery repairs and maintenance, mechanical and electrical engineering services.
It prides itself on the ability to be a one-stop shop, offering 24/7 support for a growing band of loyal customers.
Company founder Jason Elias is the driving force behind this innovative operation.
Jason set up the business in 2000 at Yennora in western Sydney after finishing a highly successful apprenticeship as a boilermaker. (He was named Apprentice of the Year three years running).
After operating the business successfully for eight years as a sole trader Jason decided to form a company after moving to bigger premises at Wetherill Park.
After four years the company boasted 16 full-time employees, including Jason – the archetypal hands-on boss.
"We then managed to land a couple of big contracts and the company grew from 16 employees to 42 in a six-month period," says Jason.
He now has 51 full-time employees on the books at his 2000sqm Wetherill Park complex – and is already looking at further expansion. 
Major clients include BlueScope, OneSteel, Arrium, CSR, James Hardie, BOC and Patrick Stevedores.
The main reasons for the company's rapid growth are simple – innovation and state-of-the-art equipment, says Jason.
"Nearly all of our machinery has been sourced from Hare & Forbes (Machinery House)," he says.
"We've been buying equipment from them since Day One."
This includes milling machines, lathes, bandsaws and rolling machines.
Latest purchases have included:
• Swift-cut CNC Plasma 3000 x1500mm
• Doosan CNC Lathe with Y axis Milling
• Hartford CNC Vertical Machining Centre
• Metalmaster Guillotine 3200 x 12mm capacity
• Metalmaster Pressbrake 4000mm 220t capacity
• Conventional Centre Lathes, Milling Machines & Hydraulic Press
"Their equipment has helped us to not only increase productivity, it has given our staff an opportunity to improve their skills and gain greater knowledge and experience in the workshop," Jason says. "We are constantly updating our technology and capacity."
Mark Camilleri, a marketing executive with Hare & Forbes, says his company has always enjoyed a good working relationship with Jason and the team at Precision Metal Group.
"It's a partnership," Mr Camilleri says. "It's all about building relationships – it's not just about selling a machine.
"It's about choosing the right machinery for a client and looking toward the future."
As part of the service Hare & Forbes provides extensive training for staff to operate specialised machinery.
"We don't just sell a machine and say 'see you later', says Mr Camilleri. "We provide behind the scenes support and service."
Jason says that is what first attracted him to Hare & Forbes.
"We have made a major investment in their machinery knowing we will get the kind of support we need."
The new machinery has meant the business has been able to diversify and service a broad number of industry sectors.
In particular, the decision to purchase the Swift-cut CNC plasma in the past year has been a real coup," Jason says.
"This machine has been the biggest money-saver."
This cost-effective profile cutting machine has saved the company thousands of dollars as there is no longer a need to outsource cutting jobs.
"Previously, we outsourced 100 percent of our profile cutting jobs – we now outsource only about 10 percent if we need bigger sizes," says Jason.
"And the quality is almost the equal of high definition machines which are significantly more expensive."
Has the new machinery resulted in any job losses?
"Not at all," says Jason. "The guys on the floor are now multi-skilled to operate a broad variety of machinery. They can now do multiple jobs. And they are not only producing better quality, they are a lot happier because they have better equipment to work with.
"The new machinery has kept them excited and motivated."
Jason has ambitious plans to further expand his portfolio of specialized machinery in the year ahead.
His expansion plans include the addition of another 2500 sqm factory – depending on future work demand.
Much of that future growth is expected to come through the supply and repair of cryogenic vessels.
"As far as I am aware we are the only facility left in Australia manufacturing, refurbishing and certifying sub-temperature cryogenic equipment," says Jason.
The vessels are sold to major gas suppliers including BOC and Coregas.
"This is a highly specialized job and previously nearly all of these vessels were imported."
Precision Metal Group has been able to offer a better quality product at a more competitive price.
The bulk of these vessels are manufactured using equipment supplied by Hare & Forbes.
"There is always close consultation between our two companies before we choose any new equipment," says Jason.
"This is probably why both companies have worked so well together over the years – we're both on the same path."
Precision Metal Group
Ph: 02 9756 4088
www.precisionmetalgroup.com
Hare & Forbes
Ph: 02 9890 9111
www.machineryhouse.com.au