Published 09-07-2020
| Article appears in June 2020 Issue
HARE & FORBES CELEBRATES 90TH ANNIVERSARY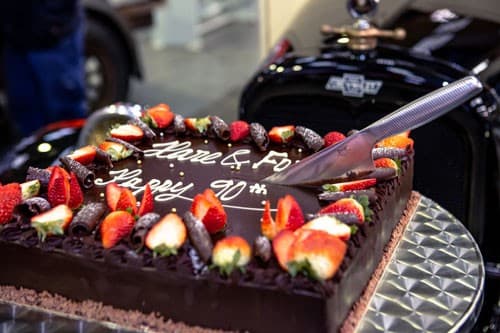 "If you don't buy right, you can't sell right."
For 90 years, this mantra has dictated the business approach of Hare & Forbes, Australia's leading supplier of engineering, metal and woodworking machinery. The family business was determined to "get it right the first time", and as they celebrate their 90th anniversary, that statement has come true.
The Hare & Forbes story spans generations of family heritage, adapting and transforming according to market needs since 1930.
Born in Brisbane in 1883, John Edward Hare was a second-hand machinery dealer when he started working with engineer Henry Graham Forbes in 1928. Two years later, the pair formalised a business partnership, and Hare & Forbes was born.
Over the decades, the company worked hard to inspire a sense of ease and confidence in clients utilising Hare & Forbes machinery and equipment.
For customers, buying from Hare & Forbes can feel more like entering into a lifetime partnership than merely a straight purchase.
Strong family values underpin the Hare & Forbes approach, encouraging growth and continuity of business through four generations of the clan at the heart of the company.
From a very young age, it became apparent to Hare family members that competition was good for business; a bit of rivalry drives stronger performance and makes for sensible business practice. Even today, that internal competition spurs Hare & Forbes on to new heights as one of the largest stockists and suppliers of machine tools, sheet metal and fabrication equipment in Australia.
From the beginning, the ultimate goal for Hare & Forbes was to offer Australians an extensive range of workshop machinery and machine tool accessories at the best possible price; a tall order.
To realise this dream, the company grew from its original location at the inner Sydney suburb of Redfern to include branches in Melbourne, Brisbane and Perth, along with a host of international clients.
Over the years, the Hare & Forbes line has grown to include conventional metal & woodworking machinery, sheet metal machinery and fabrication equipment, storage solutions, workshop and welding equipment, meat processing equipment, automotive and restoration products, machine tool accessories, measuring equipment and a wide range of spare parts, all backed by experienced technicians providing ongoing service and support.
Tall order it may have been, but Hare & Forbes made it – and are still going strong today.
As the Hare brothers were fond of saying: "It's still about the relationships you build with customers. Our business has been built on the reputation of service to the people."
To mark the momentous occasion, Hare & Forbes Machineryhouse has showcased their expertise by restoring a 1927 Chevrolet flatbed truck very similar to the first ever Hare & Forbes delivery truck from 1930.
The restored Chevy was nicknamed Felix after cartoon character Felix the Cat, who became a mascot for an LA Chevy dealership in the 1920s.
OG Customs master builder Sean Hagarty and his team worked tirelessly using purely wood, metal and automotive work to bring "Flatbed Felix" back to its former glory. On the 90th anniversary -to the day - of the original Hare & Forbes partnership on 26 June 1930, Hagarty's team unveiled the finished replica alongside the descendants of the Hare and Forbes, their families, staff and friends of the company.
Flatbed Felix will now grace the Hare & Forbes shopfloor at Northmead in proud tribute to the long commitment of Hare & Forbes Machineryhouse to Australian customers across the decades.
"Felix is a beautiful replica of our 1930s delivery truck and a very special salute to the founding members of Hare & Forbes," says Rick Foster, general manager of Hare & Forbes Machineryhouse.
"He'll live on in our Northmead store floor from now on so next time you're visiting us, be sure to check him out!"
For Hare & Forbes, the restoration project is a sentimental journey, a special project that recalls the great achievements of the company through its years of service to the Australian market.