Hard wearing filter press feed pumps
31-08-2010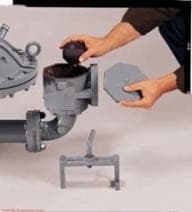 Ramparts air driven single diaphragm pumps are ideal for tough filter press feed applications, particularly when the media is corrosive and or abrasive, according to Australian importers, Hydro Innovations. 
The pumps are available with purpose built controls and a wide selection of diaphragm materials.
Because of the slow stroke rate (10-25 strokes per minute) and rugged construction (extra thick cast iron casings), wear rates are much lower on these Ramparts diaphragm pumps than the use of double diaphragm pumps or other positive displacement pumps such as helical rotor pumps or lobe pumps). 
And because pumps can be lined in a variety of materials such as Neoprene, Nordel, Nitrile and ETFE (Tefzel), chemical resistance can be maximised, greatly extending service life and the intervals between servicing.
For feeding of plate filters, Ramparts has a purpose designed "ramp-up" controller that receives pressure signals from the discharge line and continually ramps up the pump pressure until the maximum required by the system. 
This means that energy is not being wasted in the early part of the filling process, and stresses can be equalised across the diaphragm, extending diaphragm life. 
Ramparts pumps are available in five sizes (1½ ", 2", 3", 4" and 6"), with flows from 10 litres per minute (LPM) through to 1200LPM, and heads to 50m.
Hydro Innovations
Ph: 02 9647 2700