HAPPY DAYS FOR AUSTRALIA'S FIRST ELECTRIC MOTORBIKE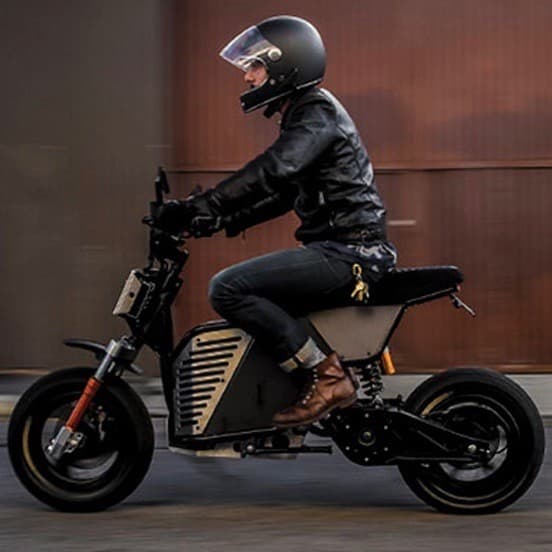 An electric motorbike and its charging stations will be manufactured in Adelaide. The Fonzarelli NKD dual-sport mini motorcycle can produce 6000rpm, and has a top speed of 100km/h and a range of up to 120km.
It is the result of a collaboration between Michelle Nazzari, a Sydney electric vehicle entrepreneur, and Simon Modra, an Adelaide architect and Future Submarine design researcher at the University of South Australia. They met at a wedding in Sydney several years ago and spent the evening engrossed in conversation about motorbikes.
"I had been working in automotive manufacturing with electric and hybrid buses," Nazzari says. "That's where it all started, but I looked at the powertrain and it's very simple and thought, 'yeah, I might give this a go,' and so set up the company and started tinkering."
She launched her first Fonzarelli brand electric scooter in 2012-13 and has grown the business from there. With a push to increase range and dedication to motorcycles still in her heart, Nazzari contacted Modra to tackle the issue of charging stations for the NKD electric motorbike.
Modra jumped at the chance to collaborate on the project and convinced her to manufacture the charging stations and bike in South Australia.
"It's a legitimate form of transport – there are many motorcyclists out there who don't have a car and we're lucky battery power has become so reliable now and Peter [Coombs – chapter president of Design Institute of Australia] did give the hat-tip to Tesla," he says. "Now we've got this incredible range with the vehicle and we're getting further and further out."
The technology can be retrofitted to older motorcycles, potentially expanding the customer base for this product throughout high-use motorcycle populations in countries across the Southern Hemisphere.
"The idea at the moment is to solidify ourselves here in Australia, but we've got strong interest from around the world," Nazzari says.
Modra compares the bike to the movies I, Robot and Gattaca.
"I think the NKD is very futuristic looking and in Gattaca they actually retro-fit electric motors into their cars and that's what I get excited about with the Fonzarelli – is that all that embodied energy in all the steel that's on our roads now can actually stay there with a new powertrain. It is the future."
The Fonzarelli NKD is made to order. Base model pricing starts from $9990 and early adopters will have their bikes ready for summer.
Fonzarelli
02 8520 3905
www.fonzarelli.co/