HANDLING AWARD RECOGNISES THE PROBLEM-SOLVING ABILITIES OF CUSHIONS
02-12-2016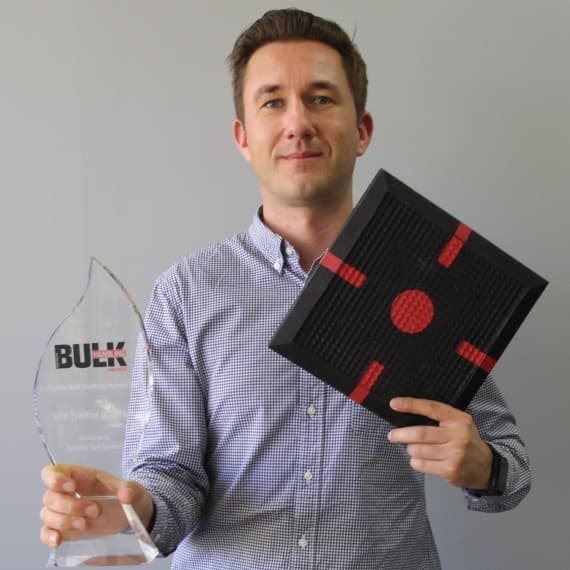 Air Springs Supply Technical Product Manager James Maslin with the bulk handling award and an example of a Pronal cushion
Air Springs has won the Best Practice in WH&S category of the 2016 Australian Bulk Handling Awards for its Pronal Cushions that help lift irregular shapes, delicate load surfaces or loads in problematic site conditions.
The Pronal innovation recognised by these awards can lift weights of more than 60t using an ultra-thin bag (just 20mm thick deflated), and is ideal for difficult lifting applications from construction and infrastructure to heavy industry, transport and mobile plant.
Accepting the award, James Maslin, Technical Product Manager, Air Springs said: "Winning this award is a great honour for us. Pronal technologies assist bulk handling companies to do tricky tasks more safely and efficiently, and to be recognised amongst the industry's best and brightest is testament to the hard work put in by our entire team." 
Exclusively available in Australia from Air Springs Supply, Pronal inflatable cushions cope with irregular shapes, off-centre loads and damage-prone surfaces.
Pronal bags combine the advantages of high durability and power with gentle, precisely controlled lifting that can spread the load over broader surfaces of the object being lifted, rather than focusing the power on point loads potentially creating slippage hazards or damage to the object being lifted.
Air Springs Supply
02 9807 4077
www.airsprings.com.au