Hand protection for all trades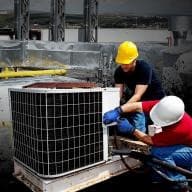 Top protection … Ansell ActivArmr gloves for tradies
Ansell's ActivArmr glove range is designed to meet the unique needs of all major trades.
To develop the range many months were spent on job sites to better understand the different challenges and needs for each trade.
The aim was to produce a range of work gloves that provided top protection as well as all-day comfort. 
"We discovered that people in trades such as carpenters, electricians, plumbers and bricklayers constantly face risk of hand injury due to the materials they handle and the nature of common hazards they experience on work sites", said Ansell's Retail Glove Marketing Manager, Tristan Beranger.
"But providing superior cut protection, enhanced grip and advanced dexterity for working with sharp edges, nuts and bolts was not enough."
"Injuries often occur when people remove gloves due to lack of tactile sensation or restricted hand movement. Protective gloves that provide comfort for day-long wear, combined with the ability to grip tools while manipulating materials and parts, encourage hand protection to be worn," Beranger said.
The breathable second skin dexterity of the ActivArmr Carpenter glove ensures the worker gets advanced protection with superior grip and day-long comfort. 
And Ansell's patented Knitted Variable Stitch Design (KVSD) glove with Dyneema, provides a barehanded feel. 
Additionally, the polyurethane palm coating provides extra grip and up to nine times the wear of standard leather gloves.
The ActivArmr glove line is currently available for electricians, plumbers, carpenters and HVAC professionals and was recently extended to include bricklayers and general labourers. 
Ansell
Ph: 1800 337 041