Published 16-05-2019
| Article appears in June 2019 Issue
HALL OF FAME AWARDS CELEBRATE VICTORIAN LOCAL HEROES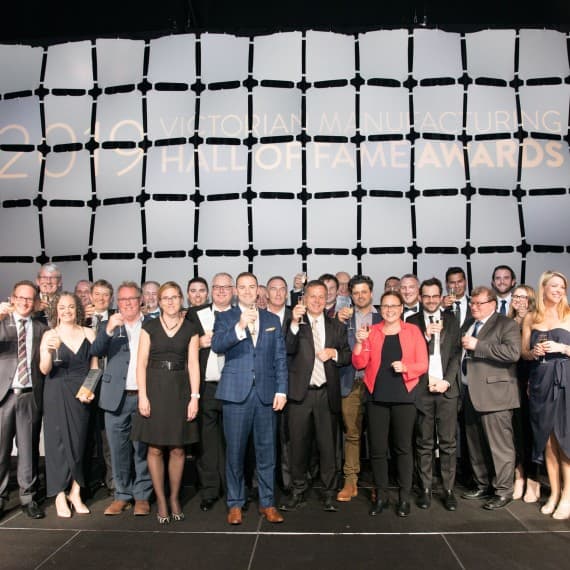 One of the early highlights of National Manufacturing Week in Melbourne was the Victorian Manufacturing Hall of Fame Awards, celebrating Victorian manufacturers of all sizes and complexions.
This diversity was typified by the award for Manufacturer of the Year (Medium Business), taken out by materials handling specialist Safetech, which has achieved international success from its manufacturing base at Moe in regional Victoria, a point emphasised by Managing Director Lindsay Wakefield in accepting the award. "Being regional, you could say that we've had to run faster and smarter," he said.
Safetech provided a strong contrast to the small and large businesses taking out the other two Manufacturer of the Year awards, with iconic brand Dulux Australia named the Large Business and Cheltenham-based component manufacturer Columbia Australia the Small Business.
Other awards were presented to Air Radiators, awarded the Leader in Innovative Product Development and Commercialisation, and to Holden Special Vehicles, which received the award for Leader in Global Supply Chain Partnerships.
Rochelle Avinu from Leica Biosystems was named the Woman Manufacturer of the Year, and Nicholas Orchowski from RUAG Australia received the award for Young Manufacturer of the Year.
lRobert Bosch Australia took out the Leader in Industry 4.0 award and Barker Trailers was awarded the 2019 Leader in Workforce Skills Development.
Geoffrey Bell was inducted into the Hall of Fame Honour Roll, in recognition of the evolution and growth of AW Bell. And RUAG Australia was the latest company inductee into the prestigious Hall of Fame.
Presenting the awards, Victorian Minister for Jobs, Innovation and Trade Martin Pakula said: "The Victorian Manufacturing Hall of Fame Awards highlight the strength and competitiveness of Victoria's manufacturing industry and I want to congratulate all our outstanding winners and finalists."
"Our manufacturing industry is one of Victoria's greatest strengths and successfully exports, invests and contributes to our thriving economy."