Hako unveils new Jonas battery-operated sweeper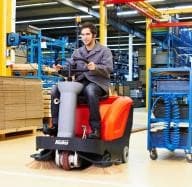 Are you looking for a quiet, battery-operated sweeper to clean a small warehouse facility? 
Or are you a cleaning contractor currently looking to invest in a quality machine to deliver a strong return on investment? 
Combining compact size with the convenience of a ride-on sweeper, Hako Australia has launched the Jonas 800E, a zero-emission battery-powered sweeper.
This new addition to the Hako-Jonas range distinguishes itself through its high sweeping performance and robust construction, making it ideal for commercial use up to 6,660sqm per hour.
The Jonas 800E delivers excellent manoeuvrability, full visibility of working area and ergonomic seating for the operator. 
The Jonas 800E has a working width of up to 1,110mm with the additional left-hand side broom option. Both side brooms are designed to sweep up dirt over the entire main sweeping width even when taking sharp corners. 
Small debris can be cleared thanks to the "IntelliFlap", a coarse dirt flap while other dust is contained in the hopper. 
To clear up larger debris, the flap can be opened fully via a pedal. 
Dirt is swept up into two Take-it-Easy dirt hoppers, which provide a total 50L capacity. The hoppers are easy to remove and empty into waste containers. 
A 1.5sqm panel air filter and powerful suction fan keep the working area of the machine free of dust.
The Jonas 800E comes with a powerful battery drive delivering continuous sweeping on surfaces with gradient inclines up to 16 percent.
The on-board battery charger enables the battery to be recharged at any standard power socket providing 110 to 230V AC electricity. 
The Jonas 800E can sweep floors for up to 3.5 hours non-stop, leaving a clean, dust-free work environment.
Contact Hako Australia to arrange an on-site, no obligation demonstration. 
Hako Australia
Ph: 1800 257 221