HAIR-WIDTH THERMAL SENSOR BEGINS TRIALS
07-05-2018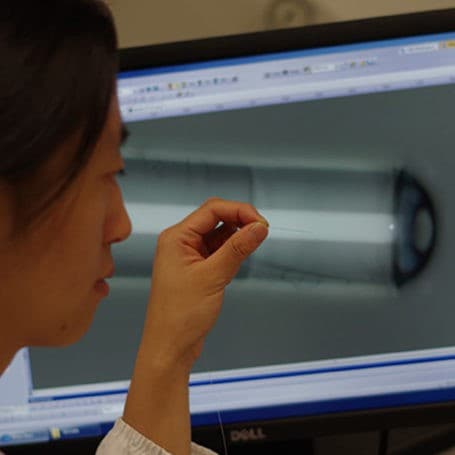 A tiny fibre-optic probe that can measure temperature while seeing deep inside the body has been developed in South Australia.
With an outer diameter of only 130 microns, the width of a single human hair, the probe is the smallest of its kind in the world with the ability to provide real time imaging and measure temperature.
This unique device was made possible by research from the University of Adelaide, and may help researchers find better treatments to prevent drug-induced overheating of the brain, and potentially refine thermal treatment for cancers.
Lead researcher Dr Jiawen Li from the Adelaide Medical School, ARC Centre of Excellence for Nanoscale Biophotonics (CNBP) and the Institute for Photonics and Advanced Sensing (IPAS) at the University of Adelaide said the probe was being prepared for testing on animal models, having completed laboratory tissue testing. 
Dr Li said the probe's tiny size meant it could potentially be used deep inside the body in a minimally invasive way, allowing clinicians to see and record physiological data in real time that wasn't previously possible.
"Using some drugs such as ecstasy can make certain brain regions overheat and then become damaged," Dr Li said.
"Using the probe's imaging function during experiments, our medical collaborators would be able to see deep inside the brain of a living organism and guide the placement of the probe to the right brain region."
Dr Li said the dual function of imaging and temperature measurement also had been identified as potentially optimising thermal tumour treatment to destroy cancer cells.
"What is currently happening is they don't have good control of the temperature, especially when it's in a blood rich area such as the liver because the blood acts as a heat sink and means the cancer cell is not fully killed by the heat," she said.
"Because the probe is really tiny, we'll be discussing with our collaborators how we can build this alongside their treatment device, which is also a probe. Then we'll be able to do real time monitoring to find out what's going on in patients and address the dose for the thermotherapy."
It is hoped that future generations of the miniature probe will take other measurements as well – such as pH values, oxygen saturation and accumulation of fat in arteries.