Haion rolls back into Australia
31-08-2010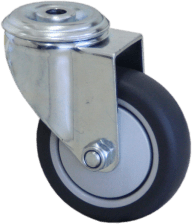 They're back … Haion wheels and castors
Established more than 30 years ago, Taiwanese wheel and castor manufacturer Haion has become an international brand with strong markets in Europe and the US.  
After an absence of 5 years the Haion brand returns to the Australian market through its new agent QHDC Australia.  
The brand has an expanded range and much improved quality having specialised in niche products such as scaffolding castors and a big range of medical and institutional castors where quality, design and function are critical.  
There is also a wide and much-improved range of industrial and institutional wheels and castors in the Haion stable.
"We chose to partner with Haion because of their quality," says Bruce Atkins of QHDC. "We have been fitting Haion wheels to our shopping trolley range for over three years now. Not one failure in over 500,000 wheels in one of the toughest applications speaks volumes for the quality and design of Haion products." 
The first container of stock arrived at the beginning of March and includes castors with wheel sizes ranging from 50mm up to 200mm and load capacities from 30kg up to 550kg.  
The range also includes nylon, TPE (rubber) and TPU (polyurethane) wheels.  
There is an assortment of all the traditional mounting styles, brakes and directional locks.  Other models will be added in future.
Wheels and castors are often the "forgotten component" on trolleys and equipment (until they fail to work correctly that-is).
Choosing well-designed, good quality models that have the correct capacity, wheel/tyre material and configuration for the application will avoid expense and frustration at a later time.
QHDC Australia
Ph. 07 5593 4718