HACCP CERTIFIED MECHATRONIC DRIVE SYSTEM IS FIT FOR FOOD PROCESSING
04-07-2017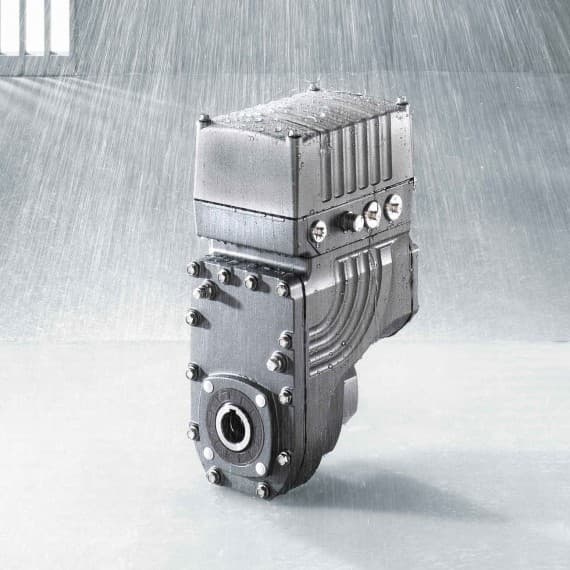 The MOVIGEAR type B mechatronic drive system from SEW-Eurodrive has received Hazard Analysis Critical Control Point (HACCP) certification for wet areas, making it suitable for use in all areas of the Australian food and beverage industry.
HACCP principles ensure the highest standards of safety by identifying potential contamination entry points and then implementing rectifying and monitoring procedures.
Machine components mounted in production or processing areas are often exposed to harsh cleaning chemicals. The shape of the component, its material composition and the method of substrate protection all play a large role in the cleaning efforts, likelihood of becoming a source of contamination and product longevity.
Thanks to its corrosion resistance, stainless steel is the material of choice for components and fixtures in the production environment in the food and beverage industry. However, due to cost pressures, weight restrictions and component availability, components such as motors and gear units are often supplied with housings made from aluminium or steel.
Designed specifically for the food and beverage industry MOVIGEAR for wet areas has a number of advantages over traditional drive solutions. Up to three core products can be assembled into a "self-draining" and compact housing: gear unit, motor and drive electronics (optional).
Combining the technical and practical advantages of all the three drive components leads to an increase in the performance, efficiency and reliability. The MOVIGEAR product range can be easily integrated into most materials handling applications such as conveyor systems.
The smooth housing of the MOVIGEAR for wet areas is finished with an HP200 treatment that is burned-in to the surface during the application process. Highly resistant to rigorous cleaning regimes, including chemicals and high-pressure washdown, the integrity of the surface finish eliminates the possibility of "paint-lift-off" often associated with traditional surface coatings. The inherent anti-stick properties contribute to a reduction of debris build-up resulting in reduced cleaning requirement and less system downtime.
The standard inclusion of stainless-steel shafts, fasteners and auxiliary fittings further enhances the noncorrosive properties of the MOVIGEAR for wet areas.
The fully enclosed nonventilated drive system uses convection cooling, eliminating the need for a motor fan, which might increase the spread of germs and bacteria due to air swirls. Sealing is enhanced by the use of high-quality gaskets and seals fitted between all segments of the MOVIGEAR housing.
The MOVIGEAR is compliant with IE4 (Super Premium Efficiency) standards, and so offers considerable potential for energy savings.
SEW-Eurodrive
1300 739 287
www.sew-eurodrive.com.au