Published 21-01-2021
| Article appears in February 2021 Issue
H-Glide structural bearings for extreme applications-Hercules and Cut to Size Plastics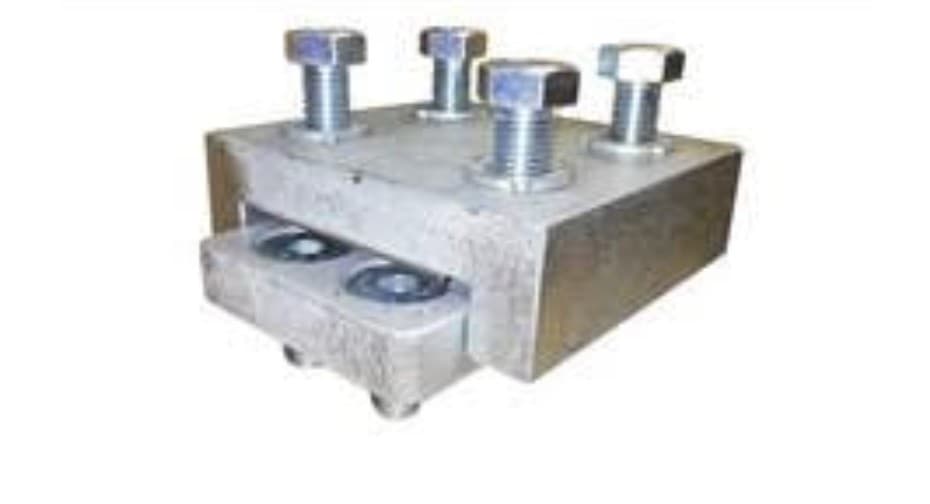 Custom-fabricated structural bearings are being introduced by Hercules Engineering for extremely high stress applications in resources projects requiring outstanding load-bearing performance, even in compact or wet spaces in mineral processing applications, power generation, ports loaders and land and marine exploration and structures.
Hercules Engineering's latest example of bearings incorporating H-glide was in an extensive roof which required extreme load-bearing capacity in a confined space, as close as possible to the axis of the load.
The same high performance is equally useful in major energy and resources structures, including wharves, platforms and steel structures, where compact bearings must withstand long-term stresses to protect valuable structures with optimum levels of safety for those within or around them . 
The latest Herculo structural bearings are manufactured by integrating H-Glide fibre-reinforced composite pads sliding on 2B finish stainless steel to achieve an exceptionally low sliding coefficient of friction compared with other engineering bearing materials, even under water.
Unlike metal bearings that may rust or require continual lubrication and maintenance, the environmentally safe yet hard-wearing H-Glide bearing pads are dry sliding and will not release contaminants into surrounding environments or adjacent processes.
"H-Glide's excellent sliding properties (including friction coefficients from 0.05 – 0.1) are invaluable to infrastructure developers, engineers, architects and specifiers because lower coefficients of friction will transfer less stress onto the load-bearing structural components when the bearing does its job of protecting them against surrounding movement, says Mr David Booty, Manager, Hercules Engineering (a division of Cut To Size Plastics Pty Ltd).
Hercules Engineering and Cut To Size Plastics provide a wealth of experience and application guidance, based on almost 50 years of operation in Australasian and Asia-Pacific regions in applying engineering polymer technology to construction, infrastructure, energy, mining, manufacturing, maritime, oil and gas, food and beverage, safety and water and wastewater applications.
"With their incompressible H-Glide sliding layer, these bearings can withstand extreme point pressures of 350-500 megapascals, depending on bearing design and application," says Mr Booty.
"This outstanding performance – which is up to 40 times greater than conventional water-resistant and non-lubricated fibre-reinforced elastomeric bearing pads – is complemented by the material's ability to function well in a variety of environments including, but not limited to, damp or under water applications. It is suitable for:
Oil process and production platform applications, as well as resource development infrastructure and mineral processing plants subject to changing operational loads and ambient conditions
Maritime and logistics structures, port and rail facilities, water and wastewater environments requiring a combination of high engineering performance combined with environmental compatibility
Energy structures, including wind, wave and tidal power generators, where bearings must provide outstanding performance over varying loads for extended periods.
Industrial and manufacturing process plant, including food and beverage, plant and process engineering applications requiring low maintenance, with high requirements for safety and hygiene
Construction, infrastructure, engineering and architectural projects involving high point loads on bearings, including commercial, retail and public infrastructure ranging from health facilities to parking stations
For further information about the product, contact Mr David Booty, Manager, Hercules Engineering (a division of Cut To Size Plastics) ph 61 – 2 9681 0400, davidb@cuttosize.com.au.