GROWING VICTORIAN MANUFACTURING - IT'S ABOUT MORE THAN BUSINESS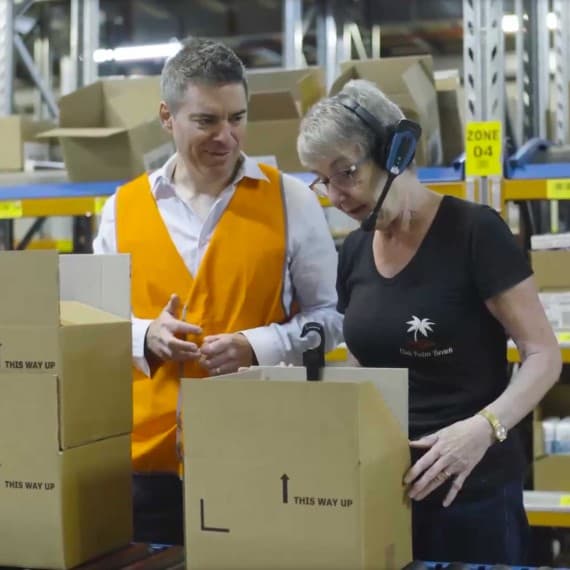 Manufacturing continues to play a significant role in the national economy, with Victorian businesses leading the transition from traditional to advanced manufacturing.
With more than 13,000 manufacturing businesses in Victoria, Bank of Melbourne proudly supports local businesses in this important sector to grow. But it's about more than just business: more than 80% of first-generation Victorian business leaders believe that running their business gives them a sense of contributing to their community, according to the bank's 2018 Communities Report.
"We help businesses throughout their production and life cycle. As Victoria's local bank, we passionately advocate for our local manufacturing and wholesale industry – and business in general," says Andrew Eastwood, Bank of Melbourne's Executive Manager, Manufacturing & Wholesale.
"We want each of our customers to grow and thrive. Supporting manufacturers and wholesalers in Victoria means we're helping businesses contribute to our economy, one of the most robust in Australia. Our strong economy is one of the things that makes our state one of the most liveable places in the world."
Bank of Melbourne prides itself on its in-depth understanding of the industry. As well as a full-service banking offering that spans business banking, transactional solutions, retail banking and private banking, the bank backs local businesses to grow with access to networks and partnerships.
Unique, tailored solutions
"Every business is unique, and so is the way our bankers support their customers. We have unparalleled insight into how the industry is evolving, and what businesses need to make the most of the opportunities here and offshore," says Eastwood.
"The industry is moving from traditional, machinery-based manufacturing towards higher-value, advanced manufacturing. Technology is behind many of the changes: today's 'smart factories' are more efficient and sophisticated, reducing labour costs and allowing more customised solutions. Another emerging trend we're seeing is pay-for-use or subscription-based services."
Industry insights
With a deep understanding of the supply chain, working capital, and tools to help manage foreign exchange and interest rate movements, the bank provides the insights and connections to help customers stay at the top of their game.
"Like many industries, manufacturing and wholesale are constantly evolving. Managing commodity and currency volatility is essential to running a sustainable, profitable business in our global economy," says Eastwood.
"Whether you mix chemicals, bend metals or make scientific equipment, success in this industry means being at the forefront of innovation."
The industry's investment patterns confirm this priority: almost a quarter of all expenditure on research & experimental development in 2015-2016 was in manufacturing. In Victoria, the trend is more pronounced, with almost a third of the 26% of the nation's R&D spend occurring in the manufacturing sector.
Understanding your needs
In an increasingly competitive environment, Eastwood says businesses need a partner who understands their capabilities and needs. That's up to the bank's relationship managers: they ask the right questions, and help customers create the connections that give them a competitive edge.
"We're proud to be the industry's advocate and we're dedicated to adding value through more than just our everyday banking support."
"We listen to what our clients want, and we're an important conduit to the support and networks they need to be successful," says Eastwood.
A banker's fresh perspective on business operations have helped many customers drive operational efficiencies and resulted in cost savings.
"Through our business reviews, we identify opportunities throughout the value chain and advise on managing working capital and minimising energy costs," says Eastwood.
Creating opportunities for growth
Bank of Melbourne helps businesses to identify grant opportunities and industry organisations for networking and collaboration.
"Our research and development review can help customers access millions of dollars in grants to support and grow their business," says Eastwood.
The bank also plays the role of fixer: it's an important conduit between businesses and partnership opportunities.
"Our partnerships with industry bodies like the Advanced Manufacturing Growth Centre help our customers access government grants and support their innovation aspirations," says Eastwood.
The introductions don't stop there. We're a state of entrepreneurs, with a quarter of new Australian businesses in 2016-17 starting in Victoria.
"When you're the new kid on the block, connections can be the difference between success and failure. We create opportunities by connecting businesses and supporting them to work together."
Two of the bank's clients exemplify the trend of businesses working together on a customised solution. One client makes cardboard boxes on demand for clients in B2C e-commerce – so there are no storage or shipping costs, and no wastage. That kind of business model means clients can focus on investing in automation and technological innovation to open up a whole new client base wanting to outsource their capital expenditure.
Relationships like these, in a critical sector of the state's economy and supported by specialist bankers, are a key contributor to an economic growth rate that's the fastest of all states.
Bank of Melbourne
www.bankofmelbourne.com.au/manufacturing