GROWING AUSTRALIAN MANUFACTURING INVOLVES ASKING THE RIGHT QUESTIONS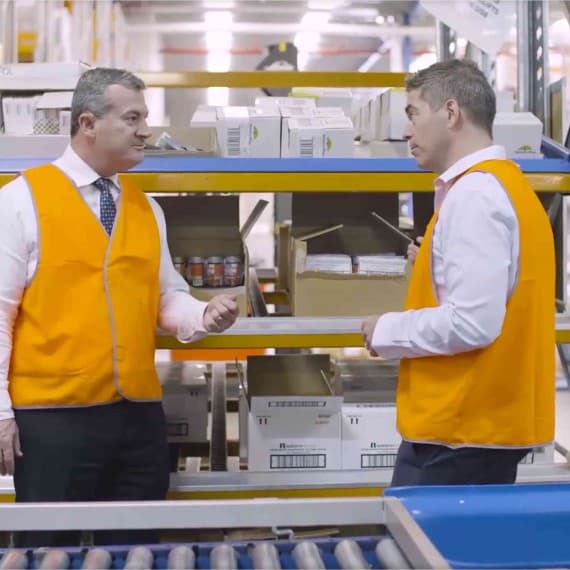 Manufacturing has long played a major role in the Australian economy, and as we transition from traditional to advanced manufacturing, St.George Bank continues to play a lead role.
"We are committed to supporting manufacturers and wholesalers to continue to build our state, and Australia," says Matthew Kelly, Executive Manager Manufacturing & Wholesale.
"Our mission is to help the manufacturing industry throughout their entire production and life cycle. But, we're not just about banking. We're an advocate for our local manufacturing and wholesale industry," says Kelly. "We want every business to grow and thrive, and so in addition to our extensive banking support we provide a range of programmes and partnerships to back businesses to do so."
St.George prides itself on stand-alone in-depth understanding of the manufacturing and wholesale industry.
"We've supported the industry for a long time, and we're in touch when it comes to manufacturing and wholesale, particularly as the sector transitions from more traditional to advanced manufacturing methods," says Kelly.
"Every business, from the small to large organisations we support, is unique, and so, the way we work with them is tailored to them; designed to support their needs, to the changing needs of the local industry and to the challenges of the industry as a whole.
"We have a team of specialist bankers with an extensive working knowledge of the industry. We take the time to get to know our customers' businesses, share our insights and offer a range of innovative banking products to help businesses grow."
St.George provides a deep understanding of the supply chain, working capital insights, and tools to help manage foreign exchange and interest rate movements. It also provides information to support investment in innovation technology and business growth, and sharing global trends to help customers stay at the top of their market.
In an increasingly competitive environment, the team is focused on supporting each business and its capabilities.
"Manufacturing and wholesale businesses operate in a constantly evolving world and management of commodity and currency volatility is essential to maintain profitability in our global economy," says Matthew Kelly.
"Whether you mix chemicals, bend metals or produce scientific equipment, the industry must remain at the forefront of technological innovation, workflow management and expanding staff expertise to ensure customers are happy."
Kelly says it's important the businesses have someone that understands their needs.
"We're proud to be the industry's advocate and we're dedicated to adding value through more than just our everyday banking support."
Finding out exactly what each St.George customer needs is down to the bank's relationship managers. They simply ask the right questions.
"We listen to what manufacturing businesses want to enable them to be successful and sustainable and we are now an important conduit between these businesses and the support they need," says Kelly.
"We're continually working on a variety of partnerships and programmes to go above and beyond to ensure the manufacturing and wholesale industry continues to thrive."
Programmes to drive operational efficiencies have resulted in significant cost savings for many St.George customers.
"We conduct business reviews to identify opportunities throughout our customer's value chain to advise on managing working capital and minimising energy costs, and we've had great success," says Kelly.
"We've stripped substantial amounts out of current manufacturing costs and identified potential cost savings as a result of our energy reviews. These are significant savings for these businesses."
To enhance business growth, St.George helps businesses to identify grant opportunities.
"Our free research and development review provides customers with information to access potentially millions of dollars in grants to support and grow their business," says Kelly.
St.George is also an important conduit between businesses and partnership opportunities.
"We have developed partnerships with leading tertiary institutions, industry bodies including the Advanced Manufacturing Growth Centre, to support our customers to gain awareness of government grants and to support their innovation aspirations," says Kelly.
"In addition, our customers told us they wanted more information and education on staff and staff training, and so, we partnered with TAFE to develop a training programme to do so."
And the introductions don't stop there.
"We are an industry bank that works closely with our manufacturing and wholesale customers, and because of this, we can identify potential partnership opportunities between our customers," says Kelly. "We connect businesses and support them to work together. We create opportunities for them."
Working with business banking professionals who have a strong working knowledge of manufacturing and wholesale can make the difference in the day-to-day running and future of any manufacturing business.
St.George Bank
www.stgeorge.com.au/manufacturing