GROUND LEVEL LOADING TRAILER TAKES THE STRAIN OUT OF MOVING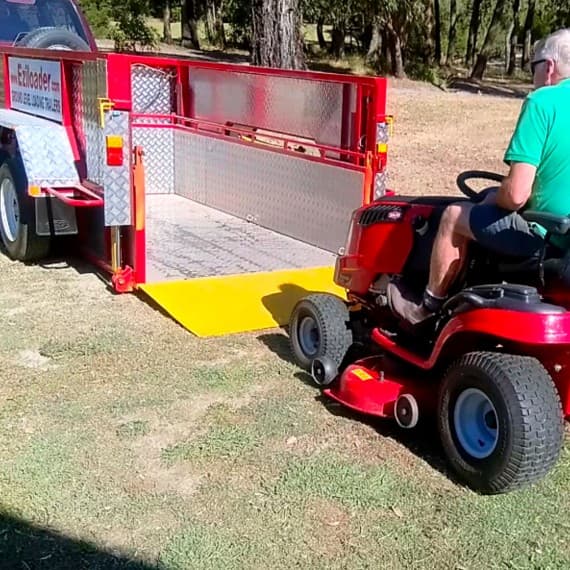 Just occasionally, a product idea comes along and you have to ask the question: why hasn't that been done before? And the Eziloader is just such a product, and one that has the potential to revolutionise one sector of the materials handling industry.
Put simply, the Eziloader is a trailer that can be loaded at ground level. Its 3 x 1.5m deck has a 1-tonne load capacity. And it uses industrial grade hydraulic cylinders to raise the deck to its travelling height of 400mm or lower it to its loading/unloading height of 35mm.
Safety is paramount, and the Eziloader design incorporates manual locking pins with sensors to confirm that the pins are correctly fitted before the deck can be raised or lowered.
When fully lowered to its 35mm height, the deck is easily accessed for any load on wheels or static loads using a simple hand pallet truck or trolley. This makes it suitable for anything from motorcycles and wheelchairs to hire equipment like mini diggers, white goods such as fridges or any palletised goods you could care to name.
The Eziloader is the brainchild of Ron Mileham of the King Group of companies, and is the culmination of a five-year project. He says: "We've just come back from demonstrating the Eziloader at the Farm World show in Warragul, and the reaction was incredible. Everyone could see the benefits of the design, from farmers who liked the idea of loading sheep and cattle without a steep ramp to a company that delivers toilets to showgrounds, currently using a very expensive crane truck."
One area where the ground level loading will be particularly useful is with materials handling companies and others with low to the ground products on wheels. For example, companies with mobile scissor lifts – with only 30mm ground clearance – will no longer have to hire tilt trays. They will be able to deliver the lifts themselves - safely.
According to Ron Mileham, a rep from one of the country's largest hire companies admitted to him that most accidents occur when hirers are loading and unloading equipment on trailers, thanks to ramps moving, or poorly loaded equipment falling sideways, sometimes even causing injuries to the hirer or to staff.
The Eziloader will shortly enter production in Victoria. It will be made from Australian steel, and will be available in a range of configurations to suit a wide range of logistics and delivery applications.
Eziloader - a division of King Group
03 9720 0425
www.eziloader.com