GRIT REMOVAL TECHNOLOGY SETS GLOBAL BENCHMARK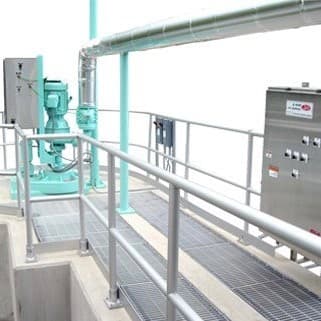 Visitors to Ozwater 2019 saw high-performance inlet screening and grit removal technology that removes 95 per cent of grit as small as 105 microns, making it ideally suited to wastewater treatment plants operating in sandy environments throughout Australia and New Zealand.
CST Wastewater Solutions exhibited the latest PISTA 360 technology from US-based water technology company Smith and Loveless at Ozwater 2019 in Melbourne from 7th to 9th May.
"We received a lot of interest in this technology, which eliminates the build-up of grit in downstream aeration basins and sludge digesters," CST Wastewater Solutions Managing Director Michael Bambridge says. "Visitors were particularly surprised by the level of fine grit removal achieved, which lifts performance levels from the 1970s and 80s right up to the future."
More than 72 per cent of New Zealanders within 10km of the coast, and more than 85 per cent of Australians within 50km, often in sandy areas, so the technology is particularly relevant to councils and utilities serving those areas.
Research by the Australian Journal of Coastal Research has found that Australian beaches mostly consist of fine to medium size sand (0.1 to 1mm) with only 4 per cent consisting of coarse sand.
The removal of fine sands reduces damage to downstream equipment from abrasion and accumulation of grit channels and basins. It enhances the reliability of treatment plants, reduces the OH&S hazards involved in unclogging systems and helps to prevent environmental spills from blocked and flooded systems.
"PISTA technology sets the global benchmark for grit removal," says Bambridge. "It far exceeds the established standard for grit removal, which has been 95 per cent removal at 250 microns. We are now achieving the same removal efficiency at 105 microns (140 mesh) and with a 10:1 turn down with this latest technology, which sets an entirely new benchmark."
The company also exhibited GWE waste-to-energy technology and KDS compact and portable automatic liquid-to-solid waste separator technology that removes more than 50 per cent of the water from wastewater sludge to halve transportation costs.
CST Wastewater Solutions
02 9417 3611
www.cstwastewater.com