GREENER CLEANING SATISFIES COMMERCIAL PRESSURES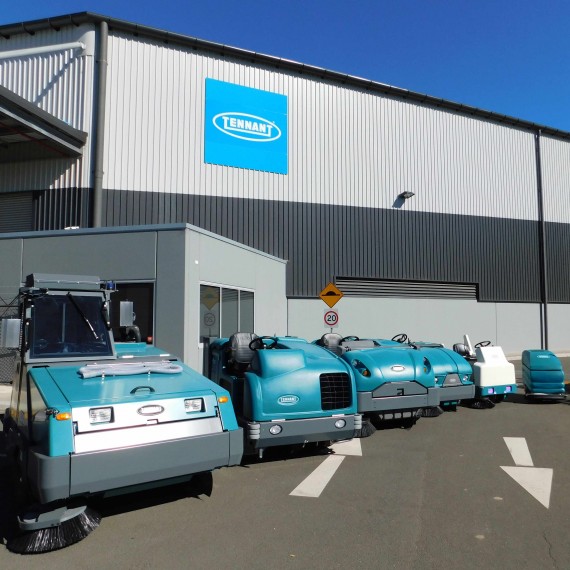 Australian industry is cleaning up its act – both figuratively and literally, with the trend towards more eco-friendly cleaning techniques gathering pace in recent years. And as a company that has pioneered some of the greatest advances in this field, Tennant finds itself in the perfect position to help satisfy industry's demands for equipment that can handle the necessary cleaning tasks while saving time, energy and resources.
Josh Hastings is Marketing Manager for Tennant in Australia and New Zealand, and he is seeing these demands increase. "It's been trending for around ten years," he says. "But much more so in the past year or so. And it's as much to do with commercial pressures as it is with environmental concerns," he adds.
However, a major key to the trend towards greener cleaning has come from greater public awareness of environmental matters.
The trend has been good news for Tennant, one of the pioneers of chemical-free cleaning with its proprietary ecH2O system launched in the mid-2000s. And while the first-generation systems may have had limited success, they laid the foundations for the current generation of ecH2O nanoclean systems that are proving popular today.
"This is not a total chemical-free replacement for all cleaning," Hastings points out. "But it is a way of reducing the environmental impact of chemical cleaning – both from a cost and an OH&S perspective."
"Nanoclean is ideal for daily use, but there will inevitably be more challenging spills and synthetic soils that can be dealt with by our Severe Environment technology. That's why our ecH20 nanoclean technology comes equipped with Severe Environment so at the flick of a switch an operator can access onboard chemicals for heavy spills."
"One of the biggest savings is water," Hastings adds, confirming the point that the electrically converted water used in the nanoclean process effectively goes further than the same volume of water used in a conventional scrubber.
This is significant in Australia as it means fewer side trips to top up with water during cleaning jobs and therefore higher productivity and reduced energy consumption. And Hastings contends that it is probably this aspect that is most appealing to customers and potential buyers alike.
So, what is hot in the Australian industrial cleaning market at the moment for Tennant? Hastings singles out the food and beverage manufacturing sector as an area of strong growth.
"Clearly, there are demands for hygiene that need to be met, and with the increasing output of the F&B sector, this only increases those demands," he says.
And hygiene is a particular speciality for the Tennant brand, which is one of the leaders in the healthcare market worldwide.
Elsewhere in Australian industry, it is the larger end of the Tennant range that is particularly successful in Australia. The company's heavyweight Sentinel sweeper has been very successful both in the mining sector and in the nation's ports. And the smaller Tennant 800 industrial ride-on sweeper is still proving popular at all manner of heavy industrial applications.
Overall, Josh Hastings says that the Australian market has a similar profile (if not scale) to Tennant's home market in the USA, and many of the trends affecting it are similar.
For example, the company is seeing increasing interest in its mid- to long-term rental offerings from organisations that might otherwise have purchased machines outright. One major advantage of this trend is that such contracts include all necessary servicing so that users benefit from the improved uptime that flows from proper preventive maintenance.
The current generations of Tennant smart machines incorporate optional features that increase levels of intelligence and produce extensive diagnostic data that enables service personnel to address trending issues before they become problems.
Talking of service personnel, according to Chris Collier, Tennant's National Service Manager ANZ, these technicians make up almost half the company's workforce throughout Australia and New Zealand. And it is thanks to their work that Tennant can offer a two-year warranty on its machines.
Operating from its Australian headquarters and main warehouse in Western Sydney, with local bases throughout Australia and New Zealand, Tennant has committed itself to the local market with its customer led value proposition on products, service and maintenance that help its users to clean up effectively, save money, improve safety and reduce environmental impact.
And with the company's advances in technologies, they are doing it increasingly sustainably – and economically.
Tennant
1800 226 843
au.tennantco.com