GREEN GLOBE AWARD WINNERS HONOURED FOR OUTSTANDING ENERGY SAVING INITIATIVES
16-10-2015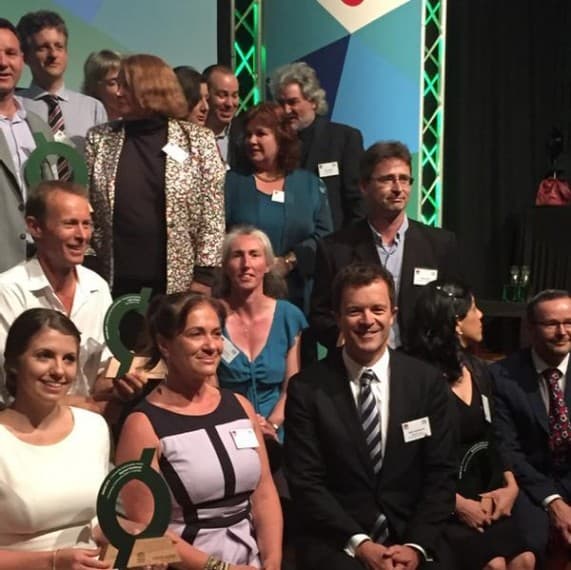 A family-owned small business on the NSW north coast that produces gourmet macadamia products has won the prestigious Premiers Award for Environmental Innovation.
Brookfarm, based at Byron Bay, was honoured at the 2015 Green Globes Awards ceremony held in Sydney on Thursday night.
More than 300 guests attended the awards ceremony hosted by the Minister for Environment and Heritage Mark Speakman.
The Green Globe Awards are the leading environmental awards in NSW, recognising environmental excellence, leadership and innovation.
Industry Update is a proud media partner of the Awards.
IU Editor Tim Michael presented awards in two categories, recognizing the magazine's commitment to the environment and sustainable manufacturing.
Premier's Award winner Brookfarm has made sustainability the cornerstone of its farm and bakehouse operations.
The company has installed 288 solar panels on its bakehouse, saving 160 kilolitres of water a year through harvest and recycling of rainwater.
And as part of its rainforest regeneration program, it has planted more than 30,000 trees on the farm that have stored over 2310 tonnes of carbon. The company has reduced its waste per tonne of product by 25 per cent per week and increased its waste recycling by 23 per cent.
Brookfarm is a pioneer of biological controls in macadamia farming and has eradicated or dramatically reduced chemical, pesticide and synthetic fertiliser use.
The Premiers Award for Environmental Innovation is presented to the most outstanding nomination from all the 2015 award finalists, decided by the judging panel. The Premier's Award recipient is chosen for exemplary leadership, vision and innovation demonstrating a particular determination in overcoming obstacles to deliver outstanding outcomes.
Organised by NSW Government and judged by an independent panel of experts, the Green Globe awards recognise the development and delivery of sustainable initiatives.
More than 100 nominations were received for this year's awards across 16 categories.
Lismore City Council won the Regional Sustainability Award for its environmental program Lismore's Vision – A Model of Sustainability, while the University of Wollongong was honoured with the 10-year Sustainability Achievement award.
Other award winners included:
·       Ferrero Australia (Medium to Large Business Sustainability Award)
·       Repower Shoalhaven (Community Sustainability Award)
·       Lismore City Council (Local Government Sustainability Award)
·       Sydney Opera House (Public Sector Sustainability Award)
·       Greater Taree City Council & the Water Research Laboratory UNSW (Natural Environment Sustainability Award)
·       Brookfarm Pty Ltd (Small Business Sustainability Award)
·       Blacktown Workers Club Group (Water Efficiency Award)
·       UTS Sydney – Faculty of Science and Graduate School of Health (Build Environment Sustainability – Commercial Properties)
·       Andy Lemann – The Greeny Flat (Build Environment Sustainability – Residential Properties)
·       Bankstown City Council (Build Environment Sustainability – Infrastructure Award)
·       Bega Valley Shire Council (Climate Change Leadership Award)
·       Dr Chris Reardon (Sustainability Champion Award)
·       Seda Hamoud, Liverpool Girls' High School (Young Sustainability Champion Award)
·       Laing O'Rourke – SunSHIFT (Environmental Innovation Award)
·       City of Sydney – Zero Waste Program (Waste & Recycling Award)
·       Austral Bricks (Energy Efficiency Award)
·       Stockland – Shellharbour Solar Power Station (Energy Efficiency Award)
For further information visit the Green Globe Awards website: