GREAT NURDLE HUNT SWEEPS THE YARRA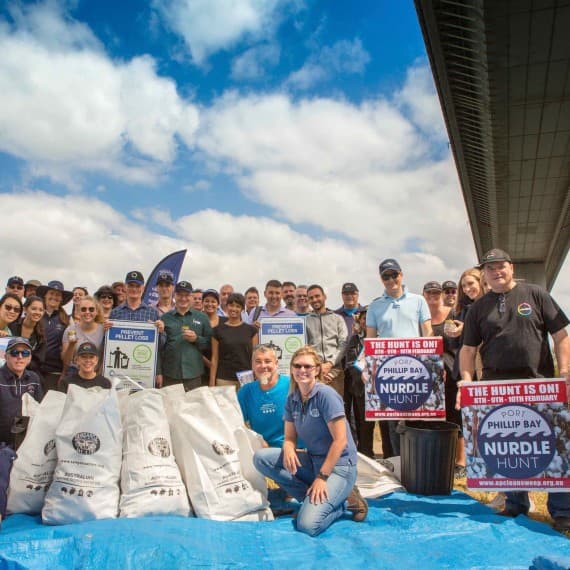 Representatives from companies across the chemistry industry showed up in force to support Operation Clean Sweep's Great Port Phillip Bay Nurdle Hunt on February 8th.
Employees from LyondellBasell, Qenos, Covestro, BASF, Chemistry Australia, FBT Transwest and Qube joined representatives from Tangaroa Blue Foundation, Westgate Biodiversity, Victorian EPA and Sustainability Victoria, local students and community volunteers to search a 100m stretch of the Yarra River under the Westgate Bridge for plastic resin pellet waste.
Plastic pellets, or nurdles, are tiny beads of raw plastic used in the manufacture of plastic products. Waste nurdles find their way into waterways and are often eaten by wildlife as they look like fish eggs.
The hunt, which ran from February 8th to 10th, is an environmental initiative specially designed to help map and reduce pollution from plastic pellets across the Port Phillip Bay catchment. During the event, participants collected over 1,500 nurdles and 52kg of litter.
Heidi Taylor of Operation Clean Sweep Australia says she hopes the event will encourage more industry members to sign up to Operation Clean Sweep and stop the release of plastic pellets into the environment.
"We were really pleased with the industry support during this year's Great Port Phillip Bay Nurdle Hunt," she said.
"It was encouraging to have such high participation in the field day at Westgate Park, which contributed not only to the data collected across the catchment over the weekend, but also to the Global Nurdle Hunt which took place throughout February.
"We're hoping events like this will create even greater awareness of the causes of plastic pellet pollution and encourage more companies to take the simple steps to prevent nurdle waste entering our rivers and waterways."
The Great Port Phillip Bay Nurdle Hunt was funded through the Victorian Government's Port Phillip Bay Fund.