GRANTS PAVE WAY FOR FIRST COMMERCIAL-SCALE WAVE FARM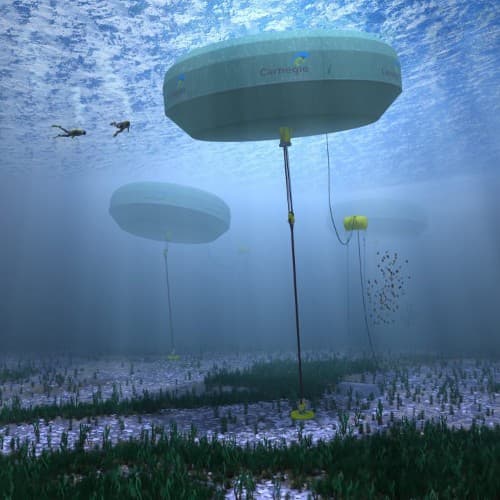 The Western Australian Government has made a move towards the long awaited exploitation of Australia's seemingly boundless wave power with the award of two grants to further the technologies involved in harvesting kinetic energy from the ocean.
A grant of $15.75 million has been pledged to Carnegie Clean Energy for its Albany Wave Energy Project. And a further $3.75 million will be awarded over the next four years to the University of Western Australia (UWA) to set up an associated national Wave Energy Research Centre colocated in Albany.
The funding will see Carnegie Clean Energy relocate its CETO 6 project from Garden Island to Albany. The CETO technology converts kinetic energy from ocean swell into electrical power and directly desalinates water through reverse osmosis.
Carnegie Clean Energy is describing the project as the first commercial scale wave farm in Australia, with an initial 1MW unit to be followed by a 20MW wave farm. Successful demonstration of the 20MW farm could in turn lead to a 100MW expansion.
According to Prof Christophe Gaudin from the UWA Centre for Offshore Foundation Systems and UWA Oceans Institute: "Western Australia's southern coastline holds one of the most promising wave energy resources in the world and is the perfect location for developers to demonstrate the performance of their devices.
"In this project, we will look at modelling wave resources in Torbay, investigating the environmental impact of wave energy converters and optimising the performance of converters while reducing the cost of infrastructure.
The project will also include some field work in Albany that will be undertaken from the newly established centre, next to the UWA Albany campus which will host researchers and students."
Work is expected to begin on the project at the end of 2017.