GRANTS TO FURTHER AUTOMOTIVE USES OF CARBON FIBRE COMPOSITES
20-02-2017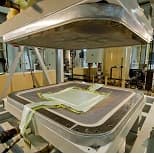 The patented Quickstep Process curing machine
Carbon fibre composite specialist Quickstep Holdings has been quick to stake its claim for a leading role in the next chapter of the Australian automotive industry by snaring two significant government grants.
The first is a Cooperative Research Centre Project (CRC-P) grant of $1.45 million to develop lightweight automotive carbon fibre composite seats. The second is an Advanced Manufacturing Growth Centre (AMGC) grant of $250,000 to develop a carbon composite bumper for the European automotive market.
The three-year CRC-P project will see Quickstep collaborate with a global automotive seating supplier and Deakin University, through its Carbon Nexus Research Centre for carbon fibre and composites.
Automotive seating is a significant market, with a projected global value of US$67 billion during 2017, representing some 93.5 million sets of vehicle seats. The potential to save weight by using carbon fibre composites in automotive seat construction is particularly appealing to manufacturers in the luxury and performance vehicle sectors.
Quickstep will also be working with Deakin University on the AMCG project, which will be focusing on automated manufacturing techniques that can reduce the cost of creating complex shaped components that have traditionally been made using manual layup.
Initial discussions with European carmakers have shown significant interest in the project, leading to a forecast that the market for such bumpers could be worth $25 million annually. Quickstep also sees potential for the development of additional composite automotive parts for the European market with similar levels of complexity after the development of the bumper.