GRABBING BACK THE CARBON
01-08-2017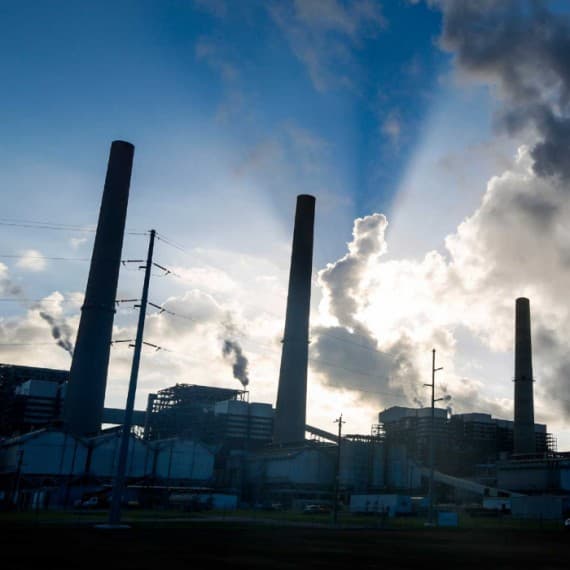 As a country, we put out a lot of carbon into the atmosphere. Much of it comes from some of our core industries: power generation, steelworks, and mining. 
In order to combat this, a team from the University of Southern Queensland is developing a new form of carbon capture, aimed at stemming the flow of carbon and making the atmosphere a little bit cleaner. 
"This project will bring a new research direction to USQ, focusing on energy materials to help solve the emerging climate change issues, while also providing potential solutions for high CO2 emission industries, such as steel and power, to help mitigate the environmental impacts," said Dr Lie Ge, project lead.
The main outcome expected from the project is to provide an efficient and economically viable electrochemical technology. It's based around a reaction which will consume CO2 and water to create a valuable product, such as formic acid, with the estimated operational profit of ~$1,000 per tonne based on DNV reports.
The electrochemical CO2 conversion, integrated with industrial processes, can be considered as an ultimate solution with multi-functionalities, not only reducing CO2 emissions but also efficiently generating value-added chemicals/fuels (whereas other carbon capture strategies struggle to provide direct value to the implementing company). 
The current costs ($120-to $140 per tonne) associated with the capture and transport of CO2 to a suitable geological formation limits the economic viability of these technologies in highly-competitive manufacturing industries.
A more desirable CO2 emission reduction strategy for manufacturing industries is to utilise CO2 or convert it to another chemical so that some or all of the costs of capture can be recovered.
The technologies to be developed, including the fundamental knowledge and technical understandings of CO2conversion resulting from the project, could be implemented in many other scenarios including the manufacturing and coal-fired power industries; both which play a critical role in the Australian economy.
Although the concept of electrochemical conversion of CO2 to formic acid (HCOOH) and/or CO has been demonstrated in bench scale tests, there remain several key technical challenges in the development of large-scale commercial electrochemical conversion systems.
This includes the need to increase operating cell current density to lift throughput rates and the need to improve the performance stability over long periods at industrial plant conditions.
"This project proposes to address these critical challenges by developing a novel metal catalyst with nano-structure and to improve the electrolysis cell designs through applying gas diffusion electrodes," Dr Ge said.
CFM Director Professor Peter Schubel said the success of the research would boost the Centre's efforts to adapt to the impacts of environmental change and bring knowledge-driven methods for catalytic materials development and electrode design.
"USQ is proud to be one of the nominated organisations to lead the development of Australian material engineering for sustainable industrial production," Professor Schubel said.