Published 09-03-2021
| Article appears in February 2021 Issue
Gorman-Rupp donates engine driven water transfer pumps to fire crews in need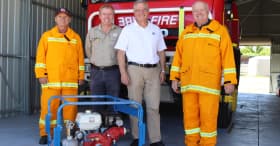 In the summer months of 2019/2020, Australia experienced one of the worst bushfire seasons on record.
Over 46 million acres of land was burnt across all Australian states and territories. Australia experienced devastating loss with thousands of homes destroyed and an entire species of animals and plants affected.
USA pump manufacturer Gorman-Rupp knew they had a product that could really make a difference and did not waste any time coming up with a way to help out.
Team members at Gorman-Rupp decided to donate engine driven water transfer pumps to help with firefighting. 
Gorman-Rupp and Hydro Innovations worked together to distribute the pumps to fire stations across Australia.
Hydro Innovations Regional Manager, Graeme Spence and Regional Sales Manager for Oceania and South East Asia, Kevin Jamie met with the Corryong CFA group to issue one of the donated engine driven water transfer pumps.
The Corryong CFA Group was heavily affected by the fires which put a great strain on their department. 
The engine driven water transfer pump issued to them will enable fire crews to fill their tankers in up to half the time. 
Hydro Innovations and Gorman-Rupp are proud to be helping where it's needed the most. 
And how can the engine driven water transfer pumps speed up your process? 
The Gorman-Rupp engine driven pump is designed for applications which require high flow efficiency, even if heads are higher, and solids handling capability.
Unlike the pressed aluminium housings with internal volutes, these Gorman-Rupp pumps are constructed of heavy duty sand cast aluminium components. 
Advantages include suction lifts to 7.6 metres with petrol engine or diesel drive. There are 2", 3" and 4" sizes available. It handles large solids of up to 50mm for the 4"pump. 
The pump flows to 38 litres per second and heads to 30 metres; also a removable cover-plate to access pump internals for inspection and or blockage removal.