GOOGLE CRACKS DOWN ON MISLEADING DOWNLOAD LINKS
06-02-2016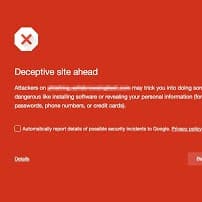 Bad advertising is the scourge of the internet, and there's little worse than clicking on a download button only to be redirected to an invasive, flashing pop-up advertisement that blares promises of thousands of dollars a day by following 'this one simple trick'.
Google, thankfully, agrees. They are expanding the scope of their Safe Browsing software; it already warns you when you navigate to a site that holds malware or unsafe content, and in November of last year, expanded to block "social engineering attacks" that pressure users to install bloated, unneeded software or disclose important information.
Now, Google has promised that deceptive advertising is next on the list. Regardless of the status or traffic of the site, Google will serve up a warning before you visit a misleading page. It won't block the site completely, but you will be forewarned.
This change is the latest in a long line of security-and-convenience-based changes that Google have made, poking and punishing content until it falls into line.
So far, all the changes appear to be in line with consumer wants and needs, though it's worth keeping in mind that Google wields a lot of power over web content, and every change it makes can shape the way we consume the majority of our content online.