Published 02-09-2021
| Article appears in August 2021 Issue
Good Vibrations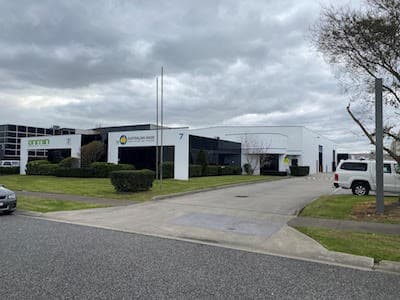 Enmin – a juggernaut in vibratory and product handling equipment – laugh about how creating their bespoke designs could be both a blessing and a curse
"It's horrible!" exclaims Anthony Gallaher. "We do have a flaw in our business – we sell no spare parts. It's not necessary. Nothing breaks. We build things to last. It drives me nuts."
With plenty of doom and gloom currently surrounding us, it was especially uplifting to talk to Anthony, General Manager at Enmin, a company that, despite the above, is soaring to astronomical heights amid the pandemic. The Victorian-based firm has been an Australian market leader in the areas of materials handling vibratory equipment, truck and industrial vibrators and flow aid devices for over four decades now.
A prominent provider for the food, pharmaceutical and allied industries, their impressive client list includes Arnott's, Cadburys, Ingham's, Pepsico and Nestlé.
For the uninitiated, every single packaged dry ingredient on a supermarket shelf – from chickpeas, to spices, rice, pasta, confectionary, or soap powder - will have passed through a vibratory feeder. Whether you need to align, sort, spread, sprinkle, size, separate, meter, deliver, blend, weigh or screen your product, Enmin can bring decades of knowledge and ample expertise to the job.
"We are driven as a solution-based business," Anthony says. "A typical example of when we get involved is, when a confectionery manufacturer receives a customer complaint that they are getting too many irregular shapes in their packets. That will go from Marketing to Engineering where they'll say: 'Can you guys come up with a solution for this?' Next thing we're getting a phone call from the manufacturer saying can you build us a vibratory piece of equipment that ensures only the right-size shapes get into the packet and the wrong-size shapes are rejected. Whether they're oversized or undersized – we want them out. That's where we step in and start building a machine for them."
How the story began…
Anthony's father, a mechanical engineer, started a business over 40 years ago that specialised in equipment for the mining sector. "One of the areas they got involved in was a little bit of vibration," Anthony shares. "Dad soon realised there weren't many people in Australia with any expertise in this."
After his company had been running for about 10 years, Anthony's mother was fed-up. With so few mines in Victoria, her husband was constantly travelling all over the country visiting work sites, leaving her at home with two children.
"My sister and I were young at the time, and she said to him: 'You better figure this out as this isn't going to work long term.'"
This led to Anthony's father compiling a list of industries that were based on the eastern seaboard of Australia, those that used vibration and those, ultimately, that appeared to be recession proof.
"He came to the conclusion that the food industry was a good avenue to go into, and so he started to target this industry," Anthony explains.
And so Enmin came to be. Originally called Engineering and Mining Supplies, it was shortened to Enmin once its founder changed focus embarking on what was to become, and continues to be, a very exciting journey.
Time to move…
Astoundingly, Enmin's recent relocation has seen them tripling their available space. Now occupying a 2642 square metre area, Anthony couldn't be happier with the new digs.
"With this premises… when I described two years ago what my ultimate would be, it would be to have a factory split into two, so a factory with manufacturing in it," he explains. "And then an area for clean assembly and storage of parts. Now to find a factory like that near impossible – but we have found that here."
On a further positive note, the sales, marketing and administration offices are sectioned off individually, making it all the safer for employees eventually returning to work post Covid.
What lies ahead…
The trailblazing firm has continued to evolve, implementing a new strategy in what many businesses deem a precarious landscape. "You need to be innovative with your design process,' Anthony says, revealing that the company is now working on creating machinery that doesn't just handle one, but 50 different products.
"You have to make sure the equipment you're designing is dynamic enough to handle everything. That is what people are coming to know us for now. We have a back catalogue of designs that we can draw upon, add to and bolt together to create new, unique systems. We're hoping to double our turnover in the next five years."
"Our next phase is to do more combinations of these standard pieces to make up a complete system. So, our next revenue growth is going to based upon standard systems using pre-designed modules that already exist in our portfolio."
The company specialises in two types of vibration, electromagnetic and electromechanical. "If you asked me what the heartbeat of Enmin was, and what makes us really unique, not only in this country, but globally, it is our electromagnetic drives."
"Rather than get these from an overseas supplier and manipulating them into what we want them to be, Dad made the decision that we would develop our own."
"The product… there's a sound that they make. When I hear the sound it actually makes me a little bit emotional! I've heard it for so many years, I walk into a factory and I'm like a bee to a honey pot. I start walking around looking for where they are! It's a unique sound and a unique product and one that we will always manufacture."
With his passion and commitment to his business so evident, it's clear that Anthony will never be one to rest on his laurels. Giving us a taste of what customers can expect in the future, he says: "We've got some exciting product releases coming out in the next 12 months, based on pre-existing systems, that will showcase all of Enmin's years of experience."