A GOOD MACHINE … BUT IT HAD TO BE REPLACED AFTER 28 YEARS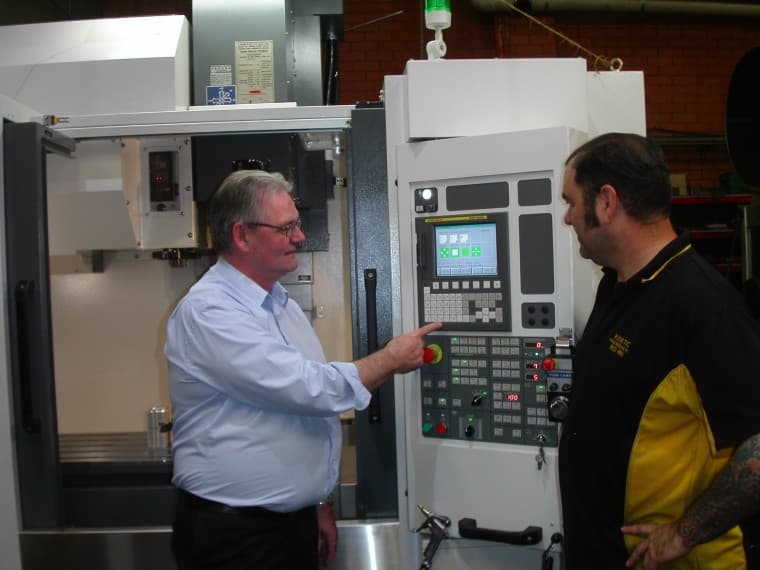 CNC specialist with 600 Machine Tools, Pat O'Doherty has known Frank and Ron Tedeschi at Kinetic Engineering in south-west Sydney for almost 30 years.
It was 28 years ago that he sold the brothers a machining centre and, when it finally became obsolete in September of this year, he sold them a replacement.
"Back in the 1980s, the factory did not need the extraordinary capabilities of CNC, Mr O'Doherty said. "Today, the marketplace is fiercely competitive, and this family firm is staying competitive by harnessing all the 'bells and whistles' provided on a CNC-equipped machining centre.
"The new machine, a YCM XV1020A, enables Kinetic's customers to be offered close tolerances, accurate repeatability, and even shorter delivery times."
Frank Tedeschi joked: "Pat told me in 1986 to call him if I was in any way unhappy with the machine. So, when I discovered it was out of spec, I called him to complain … more than a quarter of a century later!"
Pat and the team at Sydney-based 600 Machine Tools helped the brothers to balance their workshop requirements against what technology was immediately available at a price/benefit ratio within their capital budget.
Kinetic Engineering is in the general jobbing market, and its team of knowledgeable and experienced staff have built a reputation in Sydney and further afield for getting the job right first time, and delivering the order by the given deadline – or sooner.
Mr Ron Tedeschi explained that, when choosing a machine tool, reliability is a crucial factor.
"Precision and long-life are obviously important, but we have built a portfolio of loyal customers who want performance, not excuses."
After the research was completed and the leading options thoroughly evaluated, Kinetic Engineering chose an XV machining centre from YCM, a machine tool manufacturer that enjoys an excellent reputation in Australia with sales, installation, training, and continuing support from 600 Machine Tools in Sydney.
The new machine has a Fanuc MXP100i control, and a random access, bi-directional magazine for 24 tools. The XV1020A is the biggest and fastest vertical machining-centre in its Series, and has a Fanuc 22 kW motor directly-coupled to the spindle.
The sturdy 70 mm diameter spindle has 12mm thick walls, speeds of up to 10,000 rpm, and a taper of BBT 40.
The Sydney-based managing director for Australia and SE Asia at 600 Machine Tools, Cliff Purser, said: "Direct coupling of the motor to the spindle delivers valuable benefits in terms of everyday precision and machine-life.
"The unique Isolated Direct Drive (IDD) design successfully reduces the noises, backlash, and vibration usually experienced with spindles driven by belt or gear.
"This is important, given that the body structure of the XV series is designed for rigidity and constant stability under the intensive loads of heavy-duty cutting. Add to this the daily stresses imposed by a workshop's need for speed, accuracy, and reliability, and it can be seen that the YCM policy of designing for durability and long life are significant factors."
The MXP100i control has an 8.4 inch TFT colour display, and provides ease of use and remarkable flexibility.
It has AICC contour control with 40 blocks "look ahead," bespoke macro B, tool-path graphics, and a PCMCIA slot for Flash memory and a modem card. The interface is the world standard RS-232C, and a hand-held remote manual pulse generator is provided.
Drawing on his experience as a CNC specialist, Pat O'Doherty added: "Today's workshop managers expect each new machine tool to provide flexibility, and that is where the globally-famous Fanuc controls come to the fore.
"While the MXP100i is controlling each phase in the production of a component, the operator can be programming more tasks – and programs can be received electronically from a remote source.
"The result is faster throughput, great productivity, and tighter delivery times – even before moving to 'lights out' operation during the night!"
Frank and Ron Tedeschi agree the jobbing market offers some tough challenges, bringing the need to have machines and operators with the capabilities needed to produce everything from a prototype to long runs.
"We have an excellent working relationship with the team at 600 Machine Tools, and have closely co-operated with them through the whole process – machine evaluation and selection, installation and commissioning, and operator training."
Mr Purser added: "YCM's XV range has the grunt to do the hard yards, and I am confident that Kinetic will get accurate and reliable performance from the 1020A, along with a long working life."
On his return from September's major International Manufacturing Technology Show (IMTS 2014) in Chicago, Mr Purser said: "The huge number of visitors – more than 114,000 – demonstrated that there is keen interest in technology that makes engineering workshops more efficient, productive, flexible, and innovative … but high attendance figures tell only part of the story.
"The diversity of the exhibits indicated that there is rapidly growing take-up of automation for just about every manufacturing process.
"I noted, too, the current and emerging uses of software, data-processing, and digital information for a wide variety of applications on the factory floor. Mechanical engineering has been transformed by electronic engineering – and the result is automation.
"This evolutionary process is reflected in our enquiries and sales," he said. "Workshops used to replace a tired old lathe with a brand new one. Today, they are seeking the additional capability and capacity that CNC provides, including unmanned operation throughout the night."
Mr Purser said the Australian Chamber of Commerce & Industry (ACCI) recently warned that Australia is "staring down the barrel" of a crisis in skills and youth unemployment.
"The upsurge in interest in the Colchester-Harrison training lathes, worldwide, tells us that Australia can no longer rely on 'importing' skills, and that acquiring machine tools with training capabilities has moved from 'could do' to must do'."
600 Machine Tools
Ph: 02 9674 4738