Good gets better with Safetech's new goods hoist range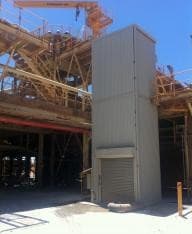 Safetech now offers new features and capacities across its entire Goods Hoist range. These additions are designed to improve the user interface, the ease of installation, maintenance requirements as well as expand the platform sizes, hoist travel and load capacities.
Most of these new models incorporate the unique low profile design that eliminates the need to pit mount the hoist. 
They also include the intuitive controls as well as offer the customer greater choice in product finish and customisable options. The user chooses the dimensions to exactly suit their needs and can select different booth linings, colours as required.
This new Goods Hoist is designed to achieve a low height of only 40mm. 
It retains the same features and durability of construction as all Safetech Goods Hoists and is available in a range of weight capacities and booth dimensions.
Safetech's standard Goods Hoist is designed with a floor height of typically less than 40 mm to allow easy loading of the booth with hand pallet trucks, trolleys and hand trucks. It's low profile means no pit is required. This greatly simplifies installation as the hoist can simply be bolted to the floor without any need for a costly pit excavation. Pit maintenance is eliminated. 
This low profile requires a ramp that is only 25cm length and is supplied as part of the hoist. 
With Safetech's expanded capacity and platform range you get travel of more than 10m, capacities greater than 5 tonne and custom platform sizes.
Weather resistant finishes are just some of the advantages offered by Safetech Goods Hoists. 
Safetech hoists use a stainless steel, intuitive user interface that is easy to use. These controls have been specifically designed to ensure simple operation from even untrained operators.
And Safetech's CAD design means that most service and maintenance operations can be conducted from within the booth.
An on-board hydraulic power unit is standard for most models. 
Safetech Goods Hoists are durable and designed to meet or exceed Australian safety and industrial standards. 
Applications include dock levelers, self-storage units, mezzanine and between floor lifts, warehouses and office lifts.
Almost any combination of loads and capacities in-between these dimensions can be supplied to suit individual requirements. 
Safetech Pty Ltd
Ph: 1800 674 566