Published 30-05-2019
| Article appears in June 2019 Issue
GOLD MINER PUTS THE SKIDS ON MINE AIR SUPPLY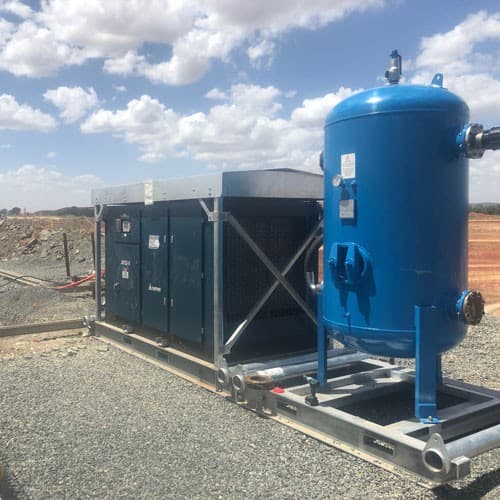 When Tomingly Gold Operations required a suitable air compressor to supply mine air for drilling and refuge chambers the company couldn't simply buy one off the shelf. The duties of the compressor and the conditions under which it would need to operate were far from "standard".
The customer specified an 8bar 860cfm 1000V air compressor to be skid mounted together with a large storage air receiver needed to handle the hot, dirty mining environment.
As the Tomingly mines are located in south-west NSW, SLS Mechanical Services based in Parkes offered both local convenience for supply and installation and ongoing support and service for the compressor.
SLS recommended a Southern Cross JN132 1000V air compressor and 2500L air receiver package including customised design features to adapt the compressor to the operating conditions.
This included the design and fabrication of a customised skid package, which can to be split in half and shortened to enable easy movement of the compressor along narrow access roads around the mine. A specialised filtration system was also fitted to cope with the harsh, dirty environment.
Another deciding factor in choosing a Southern Cross compressor through SLS was the extended warranty on the unit and lifetime warranty on the airend.
Stephen Symonds of SLS Mechanical Services says that that since installation, Tomingly has indicated the compressor is doing its job extremely well and the quiet operation is impressive for such a large air compressor - an important factor in mine operations with nearby neighbours.
Being based only 40min from site, SLS mechanical is contracted to carry out a regular maintenance programme to keep the compressor performing in peak running order for many years to come.
The gold operations at Tomingley are located approximately 50km south-west of Dubbo in Central West NSW. Operated by Tomingley Gold Operations (TGO), a wholly owned subsidiary of Alkane, the gold processing plant was commissioned on time and on budget in January 2014 and has been operating at the design capacity of 1Mt a year from early 2014.
Mining at Tomingley is based on four gold deposits (Wyoming One, Wyoming Three, Caloma and Caloma Two). Open cut mining occurred on the deposits until early 2019 producing 60,000 to 80,000 ounces of gold per year. Underground mining commenced in early 2019 from the bottom of the Wyoming One pit.
Southern Cross Compressors
1300 098 901
www.southerncrossaircompressors.com.au