GOLD AS LIGHT AS AIR
30-11-2015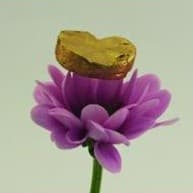 Gold as light as light as air, that's a thing. Researchers in Switzerland have been able to produce a light form of gold that consists of 98% air, 20-carat gold, and milk protein.  
Although it still looks like gold, with a metallic sheen, it is mostly made almost all out of air and has a range of different properties that make it more that just a fashion statement.
"The so-called aerogel is a thousand times lighter than conventional gold alloys," says Raffaele Mezzenga, materials scientist from ETH Zurich.
"It is lighter than water and almost as light as air." 
Making a 3D mesh of gold that is comprised mostly of pores produces the aerogold.
As mentioned only 2% is not air. Of that remaining 2% four fifths is gold, and the rest is milk protein.
The milk proteins, are heated up to create the fibres, which are know as amyloid fibrils, are mixed with a gold salt solution.
In this mixture, the fibres become interlock forming the first basic structure, and the gold particles form in a crystallised form around it.
The next challenge was to dry the solution without destroying the network the milk fibres and gold, to resolve this they put it though a supercritical drying process, the same used to decaffeinate coffee.
"When we change the reaction conditions in order that the gold doesn't crystallise into microparticles, but rather smaller nanoparticles, it results in a dark-red gold," said one of the team.
This alteration of the aerogel lead to the researching being able to mess with the colours, but have also been able to alter the materials rate of absorptions and reflection.
This means that gold can be put to less novel uses, and have potential as a chemical catalyst. The huge surface area means that the aerogel would facilitate chemical reactions and incredible rates.
"At normal atmospheric pressure the individual gold particles in the material do not touch, and the gold aerogel does not conduct electricity," says Mezzenga.
"But when the pressure is increased, the material gets compressed and the particles begin to touch, making the material conductive."