Published 04-05-2021
| Article appears in April 2021 Issue
Global energy saving technologies for Australian industry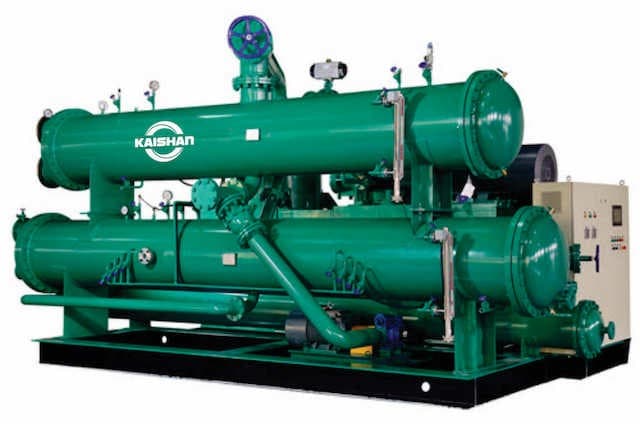 The world's best technologies are now more easily accessible to Australian industry than ever before, through local representatives of global corporations. 
As the Australian based arm of the global Kaishan Group, Kaishan Australia not only offer the world's best energy-saving and efficient air compressors on the local market, but also offers access to Kaishan's global innovations in other technologies and machinery. These include: 
COMPRESSED AIR SYSTEM COMPONENTS
To enhance the efficiency and energy saving performance of their wide range of air compressors, Kaishan Australia supplies a comprehensive range of system components to ensure both quantity and quality of air output. Correctly setting up the compressed air system with the right components ensures trouble free operation and clean, dry air delivery with minimum maintenance and maximum energy savings. 
Components include receivers, filters, oil/water separators, dryers, after coolers and auto drains. 
HIGH PRESSURE AIR AND GAS COMPRESSORS
Through its worldwide design and manufacturing capabilities, Kaishan Australia has access to the latest global technology in high pressure air and gas compression engineering. Australian industry can now tap into this world-class resource. Kaishan gas compressors are applicable to all kinds of complex conditions. Many clients throughout the world use gas compressors for toxic, explosive and flammable gas. Gas compressors support the refinery, coal chemical, petrochemical and other industries. 
ORC RENEWABLE POWER GENERATION 
Kaishan designs, manufactures and installs a range of custom-designed power stations that can generate power from a variety of otherwise wasted energy sources.
Kaishan is a leading manufacturer of organic Rankine cycle (ORC) power generation systems. These plants currently generate power in many facilities around the world, where they play a key role in curbing CO2 emissions and reducing overall environmental impact.
The Rankine cycle is the scientific name for the idealised thermodynamic cycle of a heat engine. In it, heated fluid expands through a pump to generate energy.
The organic Rankine cycle is a newer refinement of this technology, first developed in the 1950s. It uses an organic fluid —such as n-pentane or toluene — in place of water. This fluid produces vapours that drive a specially designed generator. The main advantage is that it generates energy from a lower-temperature source and reduces greenhouse gas emissions.
ORC generators offer several benefits over conventional steam turbines. Because they operate at lower temperatures, there is less cost involved in generating the heat necessary to drive the system. 
Kaishan's ORC power plants feature a patented screw expander system capable of improving isentropic efficiency by as much as 90% compared to conventional turbines.
Its ORC expanders are versatile and easy to fit into your existing workflow, with multiple condenser options and power generation capabilities ranging from 50kW to multi-megawatts.
The most significant benefit of ORC power generation is that it is far more eco-friendly than other methods of power generation. It is a 100% clean solution with no emissions or byproducts. Compared to other renewable power solutions, the combined cost of purchasing and running an ORC system is relatively low, making it one of the best value propositions for organisations looking to improve their environmental credentials.
Operators who use ORC generators can realise significant savings when compared to more traditional equipment. However, this is far from the only reason these generators may be worth the investment for an industrial operation. Other advantages of organic Rankine cycle systems include: 
Higher reliability — Thanks to its heat exchangers for isolation, ORC generators offer more durability than other types of power generators.
No lubrication — Because they don't require a lubrication system, ORC generators also cut down on maintenance costs and last longer than competing systems.
ORC technology is suitable for use in a variety of applications configured to produce energy from any of the following sources:
 Water used for engine cooling circuits
 Geothermal hot water (brine)
 Ethanol, gasoline, thermal oil and other chemicals
 Exhaust gases produced by conventional turbines or gas or diesel IC engines
 Hot gases from kilns and furnaces used in cement, glass and other manufacturing
 Any application where heat can be transferred to a fluid
STEAM EXPANDERS
Since the 19th century, power plants have used steam turbines to generate clean energy. However, the technology has its limitations — the process is inherently inefficient and the presence of moisture in the system leads to premature wear and corrosion.
Kaishan steam screw expanders are positive displacement machines that allow power plants to run at slower speeds without the performance or safety issues of a conventional turbine. As a result, they broaden the possibilities for industrial power recovery and power generation.
With a steam screw expander, power plants can accept saturated, dry or overheated steam — and, when combined with an organic Rankine cycle (ORC) system, many types of gas as well. Steam screw expanders also help with decompression, cooling and other functions.
Kaishan steam screw expanders are versatile pieces of equipment that work with co-generation, waste heat recovery and waste pressure recovery equipment. They are easy to install and maintain even in demanding operations.
Kaishan steam expanders provide:
Pressure regulation in steam or gas pipelines
Power generation from flash steam and geothermal brine
Heat recovery and waste pressure recovery at low temperatures and low pressures
With modern and innovative manufacturing facilities and subsidiary companies located around the world, Kaishan produces and supplies products to a broad international market.
Kaishan compressors and other energy saving products use proven technologies that are currently used in power plants worldwide to generate clean energy.
All products are manufactured in an 85% vertically-integrated facility, providing industry-leading quality assurance protocols that both reduce the risk of failure and keep costs down.
Kaishan Australia is committed to bringing advanced products to local industry to help them run more profitably, productively and with greener operations.