GLOBAL DISTRIBUTOR'S NEW PRODUCT INSIDER FOR AUGUST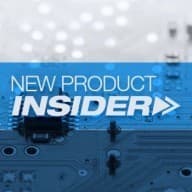 Mouser Electronics specialises in the rapid introduction of new products and technologies. As the industry leader in new product introductions, Mouser makes it a priority to stock the latest releases from its nearly 800 manufacturer partners, giving customers an edge and helping speed time to market.
In August, it launched more than 619 new products ready for same-day shipment.
Xilinx Zynq-7000 system-on-chips are available with one or two Arm Cortex-A9 cores integrated with 7 series 28nm programmable logic.
Superior Sensor Technology's HV120 sensors offer four full-scale pressure ranges and feature piezoresistive MEMS technology that enables higher performance for applications that require zero stability and/or low-drift performance.
TE Connectivity's Buchanan Wiremate inverted through-board releasable poke-in connectors facilitate fast and easy termination with no wire crimping required for linear and circular LED modules.
TDK's Mini Lateral PowerHap devices are small, rectangular piezoactuators with high acceleration and short response time for haptic feedback.
To see these and more of the products available, visit Mouser's New Product Insider webpage.