Give your business an international lift
09-09-2013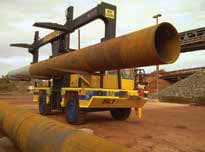 International Forklifts has had more than 30 years' experience in the material handling industry.
The company specialises in forklift sales, service, parts and rentals – with a broad range of state-of-the-art Italian designed forklifts, forklift trucks and side loaders.
Its line-up includes the world famous BP-Battioni Pagani range.
For more than 50 years BP has a global leader in the Side Loader market and the design and manufacture of high quality lift trucks.
BP, an ISO9001 certified company, produces a wide range of Diesel Hydrostatic Side Loaders.
With more than 10,000 trucks delivered to 80 countries BP has gained a reputation for quality and reliability to its customers worldwide.
BP side loaders include diesel, electric and LPG models. The H and HT/UP Series Side Loaders with turbo diesel engine and optional Hydrostatic or Power shift transmissions are equipped with pneumatic tires suitable to operate indoor and outdoor over all types of grounds and under all weather conditions.
The H-HT/EL series electronic side loader models are designed for handling long goods indoor and outdoor over even and uneven grounds, providing about eight hours continuous operation from a single charge.
BP ML-T Series reach stackers are also available in Australia from International.
The electronic multidirectional lift truck model ML-T Series is specifically designed for handling long goods in narrow/small indoor spaces such as warehouses. This model is equipped with AC electronic system and it is completely controlled by an on board computer (CAN BUS technology).
International Forklifts also offers high quality Fiora multi-directional and 4-way directional forklift trucks for use in narrow and very narrow aisles. 
The Fiora range includes: Lateral lift trucks version LT: trucks with operator on board sitting in the cabin both in lateral and front positions. Capacities range from 1500kg to 6000kg and lift heights beyond 10m.
International Forklifts
Ph: 03 9548 7511