GETTING SAFETY RIGHT WITH ELEVATED WORK PLATFORMS
13-04-2017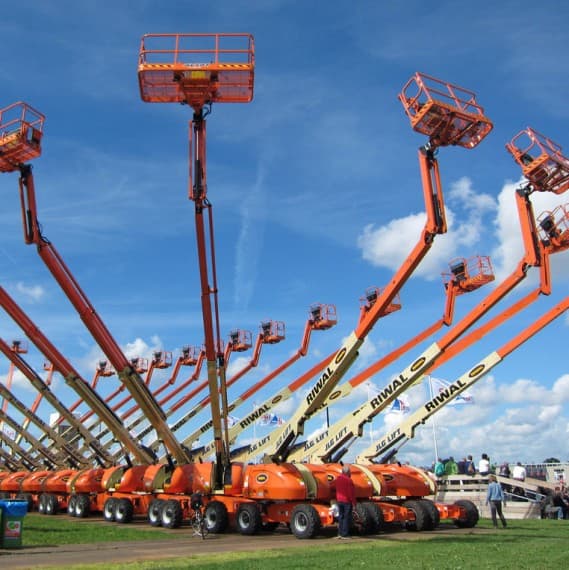 Image Source: Flickr CC0 Licence
Some jobs are labelled high risk because they're much more unpredictable and insecure than regular jobs. Examples of such include scaffolding, dogging and rigging, and operating cranes, hoists, reach stackers, forklifts, and pressure equipment.
High-risk work requires a special licence.
Statistics
IPAF's accident database 2012 statistics show that worldwide, there were 31 fatalities involving mobile elevating work platforms (MEWPs), also known as aerial work platforms (AWPs).
The main causes of these fatalities were: fall from the platform (9), electrocution (8), overturn (6), entrapment (4) and mechanical/technical related (4).
Booms were particularly high-risk, accounting for almost half of the reported fatalities. Eleven deaths involved vehicle mounts and four involved scissor lifts.
Risks of working at height
Two primary hazards are commonly associated with heights: falling, and dropping something causing people below to be struck with various objects.
Risks like these occur when there's insufficient or poorly assembled edge protection, or when various objects are not securely stored.
Construction workers and other who work above ground level are always aware of the greatest danger that they themselves are in danger of falling to the ground.
Incidents
Bridge bashing is common.
On 20th January 2014, a truck transporting a large boom lift struck a bridge over the I-585 Interstate in South Carolina moving one of the bridge decks over a metre and a half.
Another incident of the same calibre was reported on 16th September 2010, in Brisbane, Australia at Kangaroo Point, when a truck transporting a boom lift caused a major traffic snarl when the truck's boom struck an overpass causing it to fall off the truck's trailer.
Experience shows that accidents happen all the time, and so security and safety is of prime importance; be it security of load or ourselves.
Government standards and accreditation
In Australia, all personnel involved in high-risk work must be able to prove that they, as an operator, have been properly trained in the use of their elevating work platform (EWP).
Being instructed verbally is not sufficient or efficient enough as a method of training, and lacks written evidence that the staff have competently met the competency based training standards in order to operate elevated work platforms.
Hoist licences are a good example of those who may require training and ticketing in order to operate a hoist legally.
Hoists come under three basic categories: boom-type elevating work platform, materials hoist personnel, and material hoists.
EWP operator training
Another important accreditation is for those training others in the use of an EWP to have completed the EWP Operator Training Programme. In some instances you can complete multiple tickets at once.
All Class, for example, allows for applicants seeking accreditation to complete the Working Safely at Heights and Yellow Card Training in conjunction with the EWP.
The training offered by accredited bodies is usually well structured and detailed, offering adequate skills for the operator.
Keep in mind that in addition to achieving this level of competency, an EWP operator may also need to obtain additional certification experience before being allowed to work with the elevated work platforms and other similar equipment.
It's not enough for an operator to only know how to operate certain classes of elevated work platforms.
EWP operators must also be able to operate the machinery they're using in a way that keeps themselves safe as well as being constantly mindful of the safety of others in the workplace.
Being properly trained and remaining alert on the job will go a long way to assure safety when working with and around elevated work platforms.
David Trounce is a small business consultant with 25 years experience in business management and marketing.