Get a handle on safety with OKKA
31-08-2010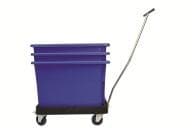 The Enviro-Skate range from OKKA Products now features a stainless steel handle that effortlessly attaches to the skate to make moving heavily loaded crates even easier.
The Skate Handle, available Australia wide from OKKA Products, the specialist material handling division of leading plastics manufacturer A Plus Plastics, comes with rubber grips for added comfort and stability. 
The Skate Handle is ergonomically designed to ensure comfort for users, regardless of the user's height or the weight being moved on the Skate trolley.
With the Skate Handle a user does not need to bend down to manually attach or detach the handle to or from the Enviro-Skate.
This makes it ideal for manual handling or to prevent back or knees workplace injuries. The Skate Handle can easily be attached from a standing position with its adjustable clip-on grip. 
The Skate Handle and Enviro-Skate is ideal for:
Fast and affordable movement of heavy items or for materials handling 
Where a forklift can't be used or is unavailable 
General use such as tradeshow companies who need to control their own setup timelines at the show
New and used equipment manufacturers loading pallets or crates in an assembly line
Use of a skate with just one or two crates making manually pushing it uncomfortable
The Enviro-Skate range, released last year, is designed to move crate loads of up to 600kg with minimal effort. The addition of the Skate Handle makes this task even easier.
A Plus Plastics Pty Ltd
Ph: 02 9603 2088