Get a handle on hydraulic leaks
31-08-2010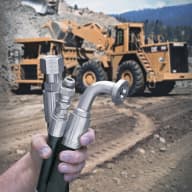 Leaking hydraulic couplings create headaches for industrial and mobile equipment manufacturers and users alike.
Hydraulic leaks on new equipment mean costly rework or warranty claims. In the field, leaks pose environmental, safety and operational problems.
Hydraulic leaks can be slow, but insidious.
The high cost of hydraulic leaks accumulate from the environmental, fluid, safety and liability, operational and capital costs associated with leaks.
Leaking hydraulic fluid affects machine performance. If fluid leaks out, contaminants can get in. Contaminated fluids account for a high percentage of component failures. Failed components stop equipment from working and cost valuable production time. Another side effect of contamination is poor manufacturing quality.
One of the most common causes of hydraulic leaks is coupling nuts or seats that crack from over-torquing. Any threaded connection has the potential to leak if it is not torqued properly. Traditional staked-nut fittings have always been prone to this problem. 
That's why Gates invented and patented the Full-Torque Nut design. It has a large, smooth shoulder that evenly distributes torquing forces for maximum torque tolerance. You virtually cannot over-torque this nut.  
It provides up to 2,210 bar (32,000 psi) burst pressure protection. And its TuffCoat plated, providing 500 hours of protection against red rust corrosion (nearly 600 percent more than the SAE standard). 
Full-Torque Nut couplings are stronger and more durable than traditional staked-nut fittings.
Gates Full-Torque Nut technology is now available on all Gates couplings, including the MegaCrimp line for wire-braid hoses, and the GlobalSpiral line for spiral-wire hoses. 
Increase productivity and equipment uptime, on the assembly line or in the field, by eliminating damaged couplings and unsightly leaks from too much torque.
To learn more about the Full Torque Nut coupling, visit Gates Australia's website, where you will find free white papers and videos.