Materials Handling & Equipment
Published 30-01-2020
| Article appears in February 2020 Issue
GET TO GRIPS WITH BULK BAGS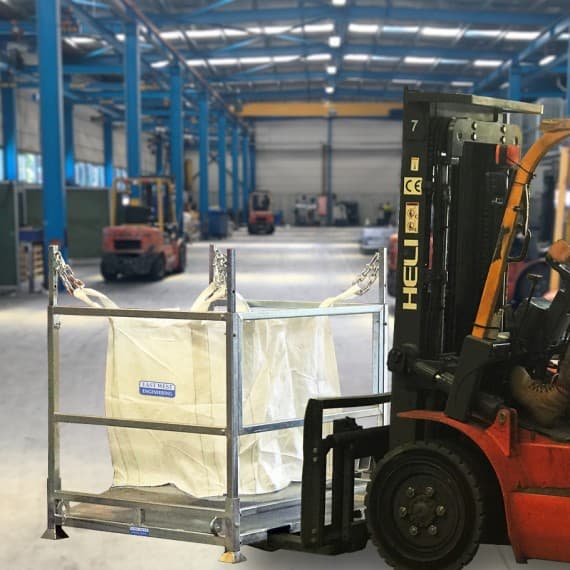 As more companies look to reduce their packaging and transportation costs, bulk bags are becoming widely used as a cost effective, efficient and eco-friendly solution for storing, transporting and discharging bulk materials.
When fully loaded, the size and weight of these bulk bags create a problem for safe and productive handling in the workplace. The issue is finding cost effective equipment that is safe and practical for basic handling applications.
East West Engineering has now extended its range of bulk bag handling equipment to include a range of bulk bag stands, each suiting a variety of applications. The extensive range allows greater use of bulk bags in the workplace for general-purpose waste collection, as well as storing, filling and dispensing of bulk materials.
SKB bulk bag stands safely hook open bulk bags for filling, saving time and costs. There are three basic models. The SKB50 is a lightweight unit for easy relocation. The SKB100 is perfect for general site and excavation waste on building sites. And the SKB150 is ideal for manufacturing sites that require complete manoeuvrability, with its sheet-metal base, fork pockets, crane lugs and optional wheels.
The multipurpose SKX100 bulk bag frame has been designed to not only hold a bulk bag open, but when combined with the SKH100 bulk bag hopper with slide gate, it can be used as a bulk bag filling or dispensing station. Additionally, this model can be stacked two high when full or three high empty, saving valuable warehouse space.
East West Engineering
1800 061 998
www.eastwesteng.com.au