Get a grip: STOCKCAP expands product range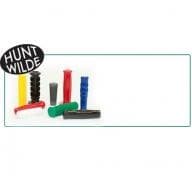 STOCKCAP (Sinclair & Rush Inc) has acquired the mould tooling and marketing rights to the entire line of Hunt Wilde injection moulded grips.
These are ideal for a wide variety of uses including:
Outdoor power equipment
Hand trucks
Lawn & garden tools
Medical & home healthcare appliances
Fitness equipment
Sporting goods
Toys
Kid's bicycles
Pumps & compressors.
STOCKCAP injection moulded grips include: 
The Straight Grip – a simple, traditional design. Designed to fit securely on a standard 1" diameter bar but, the flexible nature of the material can also conform to other shapes.
The Classic Finger Grip – known by many as the original bicycle grip. The finger or bike grip is a popular choice for applications ranging from kids toys to garden tools.
The Rib-Finned Grip – offers a unique look and added comfort over many other grip styles. Closely spaced ribs made from a low durometer flexible vinyl material provide cushioning and vibration dampening qualities. Ideal for bicycles, outdoor power equipment, and many other applications.
The Honeycomb Grip – a unique grip in terms of appearance and performance. The hexagonal pattern provides an upmarket look while enhancing comfort with its non-slip, vibration dampening design.
The Flanged Tapered Grip – ideal for applications requiring consistent hand placement. The tapered design keeps the users hand from drifting off the end of the grip while the abrupt flange resists any forward movement. A popular choice for bicycles, fitness equipment, and a variety of tools and equipment.
STOCKCAP has the entire line in stock for immediate delivery.
STOCKCAP
Ph: 1800 00 3211