GET A GRIP: NEW FLEX COMBINATION RATCHETING WRENCHES
14-12-2015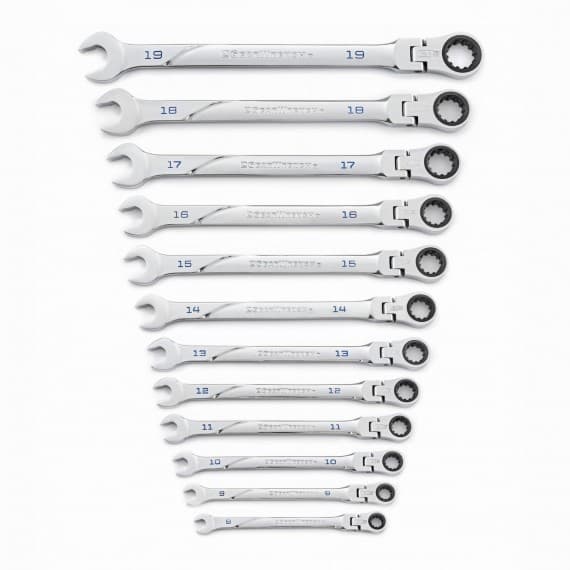 The need for speed on the job should never be underestimated. It's not about showing off, it's about getting more done and shaving valuable minutes off repetitive tasks.
GearWrench understands this better than anyone, proving time after time that they're ahead of the pack in hand-tool innovation. Now they've raised the bar again with the GearWrench Flex Combination Ratcheting Wrench.
Part of the brand new 120XP range of wrenches, this innovative mechanism encompasses 120 positions in a 360º revolution, meaning you only need to turn the wrench a mere 3º to make an adjustment on the fastener. This allows you to work in tighter, more confined spaces, ensuring access is never compromised.
The Flex Combination Ratcheting Wrench only needs as little as 5º of access to turn fasteners, compared to the industry standard of 30º. This wrench is a must have in any workshop or shed, all thanks to the ratcheting flex-head box-end diameter, giving adjustable access angles.
The universal spline drive works on 6 common fasteners; 12-point; 6-point; Rounded 6-point; Spline; E-Torx and; Square.
While the dual direction surface drive gives better grip and reduces the chance of fastener rounding, and the reduced open-end diameter provides greater access for the user.
With a full polished chrome finish, the Flex Combination Ratcheting Wrench looks as good in your hand as it feels. The XL beam design is up to 25% longer, improving your reach and leverage so you can 'get stuck into' the tough stuff.
The set ranges from 8mm up to 19mm and meets or exceeds ASME B107.6.
All GearWrench products come complete with a lifetime warranty.