GET A GRIP ON DIFFICULT MACHINING OPERATIONS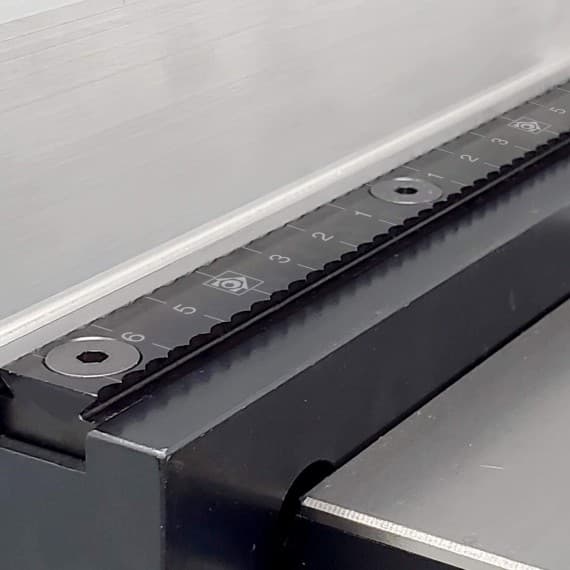 Dimac's Mitee-Bite workholding range now offers a new long-length TalonGrip that's ideal for small lot sizes, difficult applications and prototype work. The new grip has a gripping height range of 1.27 to 4.06mm and is designed as a drop fit into original TalonGrip jaw sets or for use with an existing fixture.
Dimac's Managing Director, Paul Fowler, said: "These new TalonGrip long length serrated grips are designed for applications where specific grip location is not necessary, or higher and full length penetration is desired."
Designed to boost the functionality of standard 100, 150 and 200mm vices, Mitee-Bite's TalonGrip is a straightforward bolt-on system that allows aggressive machining operations while clamping on as little as 1.5mm.
Made from S7 steel, heat-treated and finished with a black oxide coating, the grips are laser engraved with a 10mm scale that gives easy reference on repeatable part placement.
The new long length TalonGrip is well suited to prototype applications where creating a fixture is not a viable option. And all TalonGrips are available individually for fixturing with Dimac's Pitbull and Dyna-Force clamps or for soft jaw applications.
All Mitee-Bite TalonGrip jaw sets come pre-tapped with two additional holes for extra versatility when down force or additional holding force is needed. Custom modifications can also be made as the jaws are not heat-treated.
Outlining the flexibility of Mitee-Bite TalonGrip jaw sets and Dimac's clamps, Fowler added: "There is no need for pre-machining or dovetailing workpieces, which allows for very secure holding at lower clamping forces to avoid deforming the workpiece. This results in both a higher cutting rate and less material waste than traditional clamping systems."
Dimac
03 9771 6121
www.dimac.com.au