Get fit while you work
31-08-2010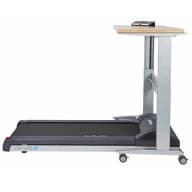 Do you spend long hours sitting at your desk?
Well, now you can get fit while you work.
Ergonomic furniture company Uplifting Solutions has released the Infiniti Treadmill Desk for Australian office workers.
Prolonged sitting presents a range of health issues, but many people feel tied to their desks.
The Infinity treadmill desk combines the health benefits of being active while working.
You can create a tailor made healthy work environment especially when reading documents or participating in long conference calls.
The treadmill can be coupled with any of our range of sit stand desks to allow optimal ergonomics.
The Infiniti Treadmill Desk features the actual treadmill, a desktop console with pedometer like functionalities and LED display.
The LED display provides the user with information including steps taken, walking time, calories burned, distance travelled and walking speed.
Also, the Infiniti console is Bluetooth enabled making for easy wireless connectivity and ability to sync data.
Available with a choice of electric or hand crank desks, the Infiniti Treadmill desk is available from www.ergofurniture.com.au starting from RRP $2400.