Published 24-03-2020
| Article appears in April 2020 Issue
Genox's extensive range of shredders even more appealing thanks to asset write-off scheme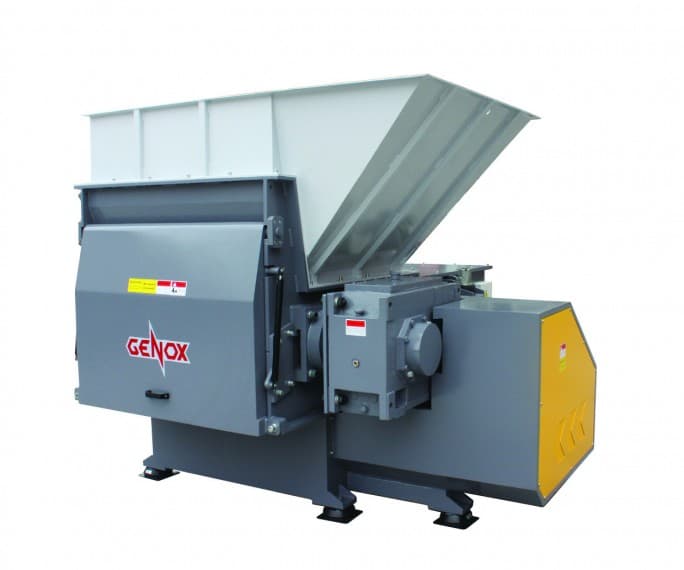 For anyone contemplating a shredder or granulator, the business case has become even more compelling with the increase in the value of the government's instant asset write-off scheme to $150,000 as part of the recently announced stimulus measures.
Waste reduction and associated recycling have become crucial parts of the Australian landscape over the last few years. They play a key role in minimising landfill and driving growth in the number of new products manufactured with recycled material.
With the dual benefits of reducing landfill and lowering waste disposal costs, many businesses are looking for effective, reliable and cost-effective solutions for waste reduction.
Applied Machinery, one of Australia's largest suppliers of recycling machinery, is the sole Australian distributor for Genox Recycling Technology. Its extensive range of shredders and granulators are perfect for reprocessing waste material for direct input into closed loop manufacturing, for secondary processing or for simple volumetric savings in recycling skip bins.
Genox is a combination of the words "Generating Oxygen", a concept that encapsulates its vision of creating a better environment through innovative technology.
The company's extensive range of shredders and granulators is suitable for all kinds of waste products. The Vision series comprises high quality, cost-effective shredders, whilst the Gran-Calibur series granulators offer defined size reduction of various materials in a single pass.
The range of products that can be size reduced and then recycled is extensive and includes soft and rigid plastics, plastic film, general plastics, wood, metals, textiles, tyres, e-waste and more. Over 250 companies in Australia now have Genox equipment installed, making Genox one of Australia's leading manufacturers of recycling machinery.
"Whilst many customers are aware of our larger scale recycling plants, our extensive range of shredders and granulators cater to just about every type of business, all budgets and practically all recycling applications. We have machines available in stock right now or on quick lead times, so customers can start reaping the benefits quickly," said Applied's Marketing and Project Manager, Daniel Fisher.
"Genox machines are already extremely affordable and the government's latest stimulus package makes them even better value," Mr Fisher said.
The increasing need for material reduction machines and the crucial role they play in the recycling process is evidenced by the diverse applications in which Applied Machinery customers have put their Genox machines to use.
"We have customers who use a shredder to cut down bulky items such as pipes and large off-cuts to allow them to be more easily packed for transport to recycling facilities.
"Many companies are also looking at Genox as a way of generating extra income from the waste reduction process. One of our customers purchased a Genox granulator to granulate fish waste from his restaurant so he could bag it and sell it as burley. This keeps this organic, odorous waste out of traditional landfill, whilst simultaneously generating extra income.
"One of the key benefits of purchasing from Applied is that we always keep an extensive range of Genox machines in stock which in most cases means same day purchase and delivery. This ensures our customers can take delivery quickly and put the machines to work immediately."
Applied also holds an extensive inventory of parts and accessories for quick routine maintenance, service and machine upgrades, and add-ons so customers are never kept waiting.
"Unlike many other machinery suppliers we don't just sell machinery; we have specialist service engineers who install the machinery and, most critically, train our customers and their staff to use it efficiently and safely. Then we provide regular servicing and follow up."
In addition to Genox, Applied is also the distributor for other leading recycling brands including Polystar, Fimic and Greenmax, enabling the company to provide solutions for practically all recycling purposes.
"Now that nearly all companies in Australia can instantly write-off equipment up to the value of $150,000, there really is no better time to invest in one of our recycling machines. However, given the scheme ends 30th June, customers will need to act quickly."
Applied Machinery
03 9706 8066
https://www.appliedmachinery.com.au/