THE GENERATOR WELDER: THE MULTITASKING WORKHORSE
07-08-2017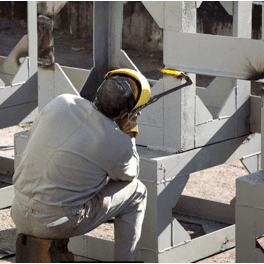 Whether you are in maintenance and repair, or even a general tradie, one of the most cost effective multipurpose tools to own is a generator welder. Generator welders can be used as both a high-quality welder and a stand-alone generator. Simply fill up the fuel tank and your welding equipment will be powered for hours without reliance on mains electricity. That means wherever you work you've got the power to get the job done.
Your generator welder can also act as a backup power source in the event that mains electricity is interrupted or unavailable.
Uses for generator welders
This versatile power source can be used in a variety of situations, whether primarily as a welder with the capability of a backup generator, or as a welder and generator for everyday use.
Here are five areas where a generator welder is invaluable:
• Maintenance and repair operations
The welder is ideal for most maintenance and repair operations, for example high-quality welding on pipelines. Quality generator welders also incorporate a current control system to allow for stable arc performance. Ensuring you have the right high-quality generator welder is key to being prepared in the case of power outages or for emergency welding repairs.
• Construction sites
Most construction sites require equipment with the ability to perform high-quality welds. Many construction sites also require access to power both in the case of power outages, or the unavailability of mains electricity to ensure work continues. Generator welders solve both these issues by providing both welding and power capabilities to keep your tools running.
• Farm use
It is critical for farms to have an alternative source of power in case an outage occurs. The further away you are from the city, the more important this becomes. Powering remote locations becomes more difficult the further you are away from established communities. A generator welder can provide a much needed back up source of power, but also gives you the ability to fix plant and machinery.
• Power generation
The electricity produced from the generator can power fans, pumps, air compressors or other tools commonly found on job sites and farms. This makes the generator welder much more versatile than just purchasing a stand-alone welder.
• Outdoor work sites
Generator welders are mobile and can be loaded onto a truck for transport and used outdoors. This portable versatility allows for ease of use and provides a variety of different applications at multiple locations. Transport from one job site to the next can be done quickly and requires minimal effort.
What to look for in a generator welder
Deciding which generator welder is right for you may take a lot of research and discussion with distributors. Most popular generator welders are designed to operate in locations from very hot to very cold. You want the unit to be a dependable source of power with the ability to perform high-quality welding.
Here are some of the most important features to look for when deciding which brand and product to buy.
Noise reduction: Choose a model with noise reduction built in for both idle and operation states.
Advanced design with increased safety: Generator welders have come a long way from their counterparts in the past. There are many products with a wide range of technological advancements incorporated into the design including an emergency shutoff device to protect the generator from overloading. These advanced features are key points of difference when deciding which generator suits your needs.
Superior fuel economy: Each product has different fuel efficiency. It is important to take the efficiency of the machine into account and its impact on your budget. Some generator welders incorporate built-in slow-down features to increase fuel efficiency while improving performance.
Comprehensive warranty and service network: Quality models come with at least a 12-month warranty and should be warranted for faulty parts and defective workmanship. Parts, spares and filters should be readily available all year round ensuring any problems you may encounter will be fixed in a timely manner.
High performance: The ability to operate as both a high-performing welder and high-performing generator are essential. Consider a model such as Denyo's high performing DAW-500S a diesel welding set featuring a fuel-efficient, compact and lightweight design with safety devices as standard.
Not sure what you need? Get advice from a reputable supplier on the best model to suit your work requirements.
Alex Hamilton writes for Able Sales, an Australia wide supplier of quality generator welders with offices in Perth, Melbourne and Brisbane. You can catch him on Google+.