GEL BANDAID TO DELIVER MEDICATION DIRECTLY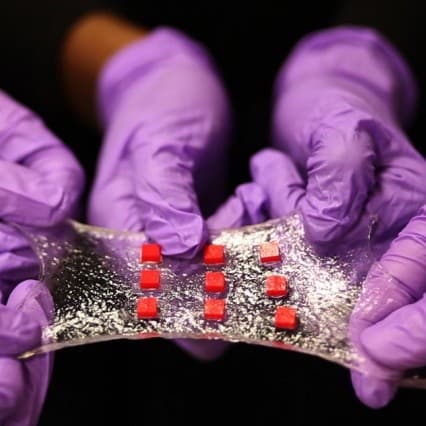 Researchers in the US have created a gel-like material that can be used as a new "smart wound dressing".
Using temperature sensors and drug reservoirs, the gel bandage can release medicine and respond to changes in skin temperatures, with LEDs that light up when med level are low.
 "Electronics are usually hard and dry, but the human body is soft and wet. These two systems have drastically different properties," said Xuanhe Zhao, a mechanical engineer at the Massachusetts Institute of Technology (MIT).
"If you want to put electronics in close contact with the human body for applications such as health care monitoring and drug delivery, it is highly desirable to make the electronic devices soft and stretchable to fit the environment of the human body. That's the motivation for stretchable hydrogel electronics." He continued.
The gel matrix that makes up the dressing and has a number of advantages over the traditional cloth based bandages, with its flexibility it is able to stretch over an area with ease and freedom.
The material is made mostely of water, and can have a number of electronics such as wires, semiconductors, LED light and sensors embedded into it.
The researchers say that their bandage can deliver different drugs to different segments of skin in relation to their respective temperature.
"It's a very versatile matrix," said Hyunwoo Yuk, one of the team members.
"The unique capability here is, when a sensor senses something different like an abnormal increase in temperature, the device can on demand release drugs to that specific location and select a specific drug from one of the reservoirs, which can diffuse in the hydrogel matrix for sustained release over time." He continued.
The gel will be most efficient for injuries such as burns and other skin conditions. The researchers have added that it is not limited to external use and could be used internally for things such as sensors or neural probes.
 "The brain is a bowl of Jell-O," said Zhao.
"Currently, researchers are trying different soft materials to achieve long-term biocompatibility of neural devices. With collaborators, we are proposing to use robust hydrogel as an ideal material for neural devices, because the hydrogel can be designed to possess similar mechanical and physiological properties as the brain."