Geelong aluminium smelter under threat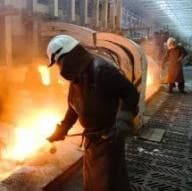 US aluminium giant Alcoa has warned it is looking to cut as much as 11 per cent off its global smelting capacity over the next 15 months because of a dramatic fall in prices for the lightweight metal.
The recent announcement has fueled concerns over the future of the ageing Point Henry smelter in Geelong, Victoria.
While Alcoa has made no decision on which of its smelters will be affected by the announcement, Point Henry is one of its worst performers.
The smelter secured a two-year reprieve from closure after receiving government grants in June last year.
Global aluminium prices have slumped by the 33 per cent slump since a peak in 2011.
And the strong Australian dollar has had a major impact on Alcoa's smelters at Geelong and Portland in western Victoria.
But Portland is a more modern operation and is likely to be less affected by the proposed production cuts, covering 460,000 tonnes of Alcoa's current global output.
In a statement Alcoa said: "The review will include facilities across the Alcoa system and will focus on higher-cost plants and plants that have long-term risk due to factors such as energy costs or regulatory uncertainty."
Alcoa president of primary products Chris Ayers said "persistent weakness" in global aluminium prices had prompted the review. "We need to review every option to maintain Alcoa's competitiveness," he said.